Lost without TRACE: tracking down wildlife crime using forensics
Cambridge, UK, 28 June 2007 - TRACE (Technologies and Resources for Applied Conservation and Enforcement), a new non-profit organisation, has launched an initiative to promote the application of forensic science in combatting wildlife crime, in collaboaration with TRAFFIC, the wildlife trade monitoring network.
---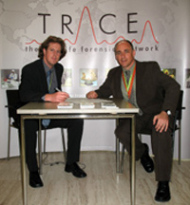 Forensics can be used to identify materials when visual identification is impossible, for example in cooked, ground or processed products, such as traditional medicines. This makes them especially valuable for investigating the origin and identity of products, both legal and illegal, in wildlife trade.
"Forensics have a massive potential for tackling wildlife crime and in monitoring the legal wildlife trade," says Dr Rob Ogden, co-founder of TRACE.
But bespite their potential, wildlife forensics are seldom used, largely because of a lack of awareness of the tests available, and a lack of capacity to carry them out, particularly in developing countries.
"Techniques such as DNA and stable isotope analysis are immensely powerful tools, but they are all too infrequently applied to tackling wildlife crime.
"TRACE aims to build sufficient political and financial support to enable us to create a worldwide network of expertise in wildlife forensics and link it to Customs and enforcement agencies who can make best use of it," says Ogden. 
The first TRACE Wildlife DNA Forensics training course took place in March this year in Pretoria, South Africa. Fifteen delegates learned about biological sample collection, DNA extraction, species identification and how to present forensic evidence in court.
The meeting ended with the formation of the Environmental Forensics Working Group of South Africa, chaired by Jonathan Evans of TRAFFIC East and Southern Africa.
"Wildlife trade is becoming increasingly sophisticated and advanced techniques are required to monitor it," said Steven Broad, Executive Director of TRAFFIC.
"TRAFFIC is delighted this initiative will improve international co-operation and expertise in the use of wildlife forensics, and we look forward to close collaboration with TRACE."
 
---
About TRACE Wildlife Forensic Network

TRACE Wildlife Forensics Network is an international NGO, based in Edinburgh, that aims to promote the use of forensic science in biodiversity conservation and the investigation of wildlife crime. The TRACE network brings together forensic scientists and enforcement agencies to exchange information on the latest challenges facing wildlife law enforcement and modern techniques for tackling them.www.tracenetwork.org
Professor Rob Ogden is Director of TRACE, and Chair in Conservation Science at the University of Edinburgh, where he holds the positions of Director of Conservation Science and Head of Conservation Genetics at the Veterinary School and the Roslin Institute.