Log on to keep the tiger roaring
Beijing, China, 27th January 2011—As the Chinese Year of the Tiger draws to a close on 2nd February, TRAFFIC and WWF China are urging those concerned over the plight of wild Tigers to register their support at www.listentothetiger.com and make a Tiger roar.
---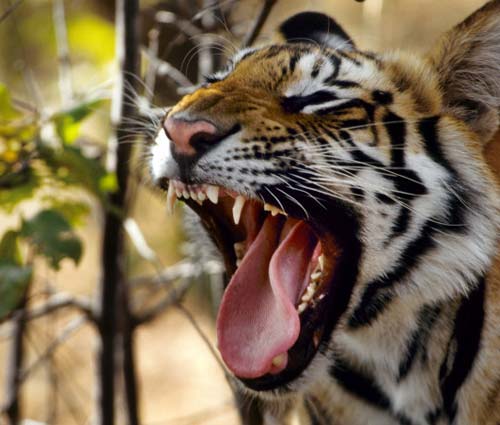 At the website, visitors can hear natural sounds from around the Tiger's habitat, including bird song, animals calling, wind rustling tree leaves and a water rippling along a brook. 
And after every fiftieth visitor registers their support for wild Tigers, a Tiger's roar will be played, to complete the aural image. 
"With only a handful of wild Tigers left in China, we want people to realize that without their continuing support, the Tiger's roar could fade away before the next Year of the Tiger in 2022," said Fan Zhiyong,  Director of Species Program of WWF China.
Visitors can register their interest and bring on the next roar in a number of ways—either directly through the website, or through a range of social websites and other media, including Twitter, Sina Weibo, Tencent Weibo, Renren and Kaixin or texting to 123984861234 (China Mobile/China Unicom) or 10659020511101083123 (China Telecom). 
"We hope this campaign will inspire people in China to do everything they can to ensure wild Tigers will be roaring for many years to come," said Xu Hongfa, Director of TRAFFIC China Program.
TRAFFIC and WWF China are grateful for the support of Ogilvy in creating and running this online campaign.
---