Live animals seized en route to Jakarta
Jakarta, Indonesia, 27th July 2011—A known Indonesian wildlife dealer has been caught red-handed, attempting to smuggle 18 protected echidnas—rare egg-laying mammals—out of their native Papua province.
---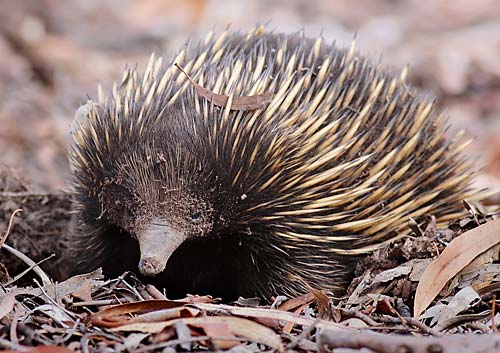 The suspect is a registered wildlife trader who was apparently attempting to send the animals on a plane to the country's capital, Jakarta, without the necessary permits.
The seizure took place on 21st July 2001 in Merauke, Papua Province, one of the easternmost towns in Indonesia. The seizure was made by the Natural Resources Conservation Agency of Indonesia (Balai Konservasi Sumber Daya Alam).
Aside from the echidnas Zaglossus or Tachyglossus spp., the shipment also included 2 Carpet Pythons Morelia spilota variegata, 3 Amethyst Pythons Morelia amethistina, 2 Frilled Lizards Chlamydosaurus kingii and 6 monitor lizards Varanus spp.
Echidnas and Frilled Lizards are fully protected in Indonesia, while the two python species may be traded under quota with permits, although none had been acquired in this case. It is currently unclear which monitor lizard species were seized. 
The animals were packed in cloth sacks and hidden in modified compartments in two suitcases, to be checked in at the airport. However, airport officials sensed something was amiss and inspected the bags, discovering the live animals inside.
Although reptiles are often involved in such smuggling cases, the echidnas are a less frequently traded commodity. All the animals will be quarantined and released back into the wild. 
This is not the first time the suspect has attempted to smuggle wildlife. Indonesian press reports quote the head of Merauke District I Natural Resources Conservation office, Oktavianus Bato Tampak, as saying that the same individual was arrested last June for attempting to smuggle monitor lizards and snakes, and was still under investigation for that offence. Oktavianus also told press he believed the man attempted to smuggle again because of his legal troubles.
"Indonesia is a major source of wildlife illegally entering international trade," said Chris R. Shepherd, Deputy Regional Director of TRAFFIC Southeast Asia. 
"We encourage the authorities to investigate both the individual caught in Merauke, and also the intended recipients in Jakarta."
"It's the dealers based in Jakarta who are behind the large-scale smuggling of wildlife to buyers world-wide and who are responsible for Indonesia gaining its reputation as an illegal trade hub." 
"The authorities need to put the Jakarta-based dealers out of business once and for all."
---