Landmark court ruling on fisheries over-harvesting
USA, 10th January 2011—The US Court of Appeal has ordered three men to pay restitution to the South African government for overharvesting of Cape Rock Lobsters off the south and west coasts. Markus Bürgener, Senior Programme Officer for TRAFFIC East Southern Africa called it "An historic decision for the world's fisheries, which sets an important international precedent."
---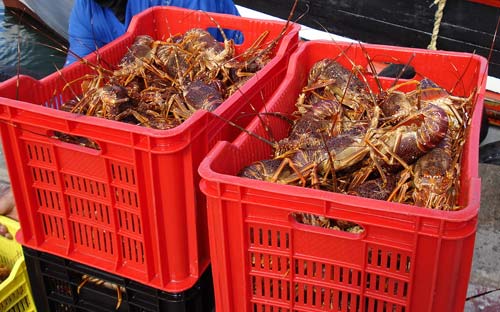 "It is the first time a court has determined that individuals can be liable for damages caused by overharvesting and their long-term impact on fish stocks." 
All three of those convicted hold US or joint US-South African citizenship, meaning they could be prosecuted under the US Lacey Act, the first law of its kind to prohibit the import, sale or trade of products into the USA that were illegally-harvested in their country of origin.
The case has been ongoing since 2001 when South African authorities seized a container of Cape Rock Lobsters destined for the USA. Hout Bay Fishing Industries was subsequently fined, two fishing boats seized and 14 fisheries inspectors arrested on suspicion of accepting bribes. 
In 2004, the three individuals at the helm of the smuggling operation that spanned a period from 1987 to 2001—Arnold Bengis, the former managing director of the now defunct Hout Bay Fishing Industries, his son David and Jeffrey Noll—pleaded guilty to various offences under the US Lacey Act and have now served prison sentences of between one and four years and paid fines of about USD13.3 million. 
Following the overturning of a New York district court ruling by the US Court of Appeals earlier this week, the three convicted now face a massive fine—the exact level to be determined—but which could be anywhere between USD39.7 million and USD54.9million depending on how the market value of the overharvested lobsters is calculated. 
Cape Rock Lobsters Jasus lalandii are restricted to shallow coastal waters off southern Africa. The South African government has imposed measures to prevent over-fishing of the species, including a size limit, a ban on catching females brooding eggs, individual fishing quotas and a closed season from June to November. 
"The US Government has sent a strong signal to those involved in criminal fishing operations: crime simply doesn't pay," said Bürgener.
---