Kind Dining Campaign Urges New Generation to Say No to Illegal Wild Meat
Bangkok, 23 November 2021 - The new Kind Dining campaign urges Thais to say no to illegal wild meat, alongside celebrities and social media influencers such as actor Sky Wongravee Nateetorn, wildlife veterinarian Dr. Lot Patarapol Manee-on, and chef Tam Chudaree Dhepakam, to combat illicit wildlife trade and to reduce the risk of disease transmission from wildlife to humans such as SARS, and potentially COVID-19.
---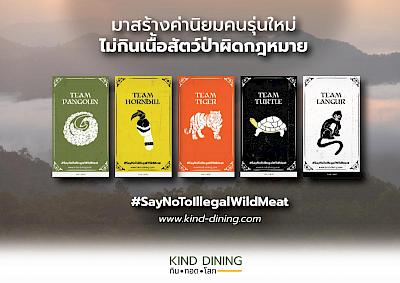 The campaign aims to discourage the consumption of illegal wild meat in Thailand and encourage people to join together in pledging to #SayNotoIllegalWildMeat.
Thanya Netithammakun, Director General of the Department of National Parks, Wildlife and Plant Conservation (DNP), stated, "I believe that it is crucial to implement conservation efforts to stop the consumption of illegal wild meat. Once the illegal consumption stops, protected wild animals will be able to live and perform their roles in nature, which goes hand in hand with DNP's mission to conserve, promote, and restore wildlife and plant species."
Persistent demand causes illegal hunting, killing, and trading of wildlife, which leads to declines in the populations of wild species, including some protected and/or endangered species. It also increases the risk of disease transmission from wild animals to humans. The virus that caused the COVID-19 pandemic, which has caused such devastating impact worldwide, likely had a wild animal source.
Dararat Weerapong, Senior Project Manager at TRAFFIC said, "Social and behavioural change, together with clear policy and effective law enforcement, are needed to reduce illicit activities and protect wild animals from the illegal wild meat trade. Kind Dining was created to reduce consumer demand for illegal wild meat. For instance, the negative impact on the environment and the risk of emerging infectious diseases (EIDs) are topics discussed in the campaign."
In June 2021, GlobeScan research commissioned by TRAFFIC and ZSL (Zoological Society London) revealed wild meat consumption among Thais. The report discovered that 32% of the urban population had consumed wild meat in the past 12 months, some of which is illegal, and a similar proportion intended to consume it in the future.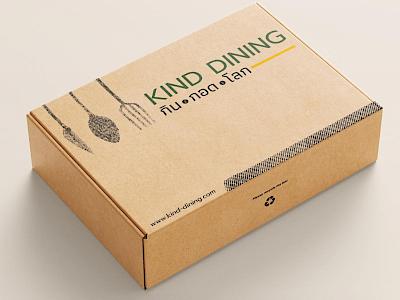 "The research provided important insights into the attitudes and behaviours of wild meat consumers in Thailand. Understanding the consumer is crucial to designing effective campaigns to stop illegal wild meat consumption. The Kind Dining campaign is designed to have both online and offline activities to help consumers move away from eating illegal wild meat" said Dr. Eileen Larney, ZSL Thailand's Acting Country Manager.
The survey revealed that typical wild meat consumers are 18-30-year-old urban Thais who have high income [purchasing power], are not seeking wild meat for sustenance, and enjoy travelling. Wild meat consumption often happens during travels and social gatherings.
A set of videos, consisting of a 3-minute documentary and three 15s and 30s videos, presented by Sky Nateetorn, Dr Manee-on, and Chef Dhepakam, will be distributed via Facebook and YouTube to create social change on issues related to the consumption of illegal wild meat.
A campaign created in collaboration with Chef Dhepakam and Mena Rice Based Cuisine (Chiang Mai) will also be launched in December and January. Popular dishes made with illegal wild meat will be re-created with sustainable ingredients and made available to the public. The packaging will have a QR code leading to www.kind-dining.com, where people can pledge to reject illegal wild meat by joining one of five wild animal teams. By clicking to pledge, they will receive an electronic badge of their team to share on their social media and use the hashtag #SayNotoIllegalWildMeat to encourage others to join.
---
About the Campaign:
'Kind Dining' is a joint campaign between the DNP, TAT, TRAFFIC, ZSL, and UNDP with support from the Global Wildlife Program (GWP), Global Environment Facility (GEF), the UK government through the Illegal Wildlife Trade Challenge Fund, and the US Fish and Wildlife Service.
The research conducted in June 2021 discovered that the majority of wild meat consumers are 18-30-year-old urban Thais, who have high incomes and love to travel. This group's main drivers for wild meat consumption are taste, curiosity, sense of accomplishment, excitement, and novelty, not for sustenance.
The campaign combines the words Kindness and Fine Dining to remind people that the best meals do not harm wild animals, nor risk their own health. The campaign aims to reduce demand for illegal wild meat and change the attitudes of people who consume such meat, in order to create societal behavioural change for people to #SayNotoIllegalWild Meat.
---
Department of National Parks, Wildlife and Plant Conservation (DNP) is a Thai government agency with a mandate to 1) conserve, protect and restore forest and wildlife resources; 2) Research, develop and provide academic services; 3) Manage forest and wildlife resources by making contributions based on appropriate technology; and 4) Promote the utilisation of natural resources in a balanced and sustainable manner. http://portal.dnp.go.th
Global Environment Facility (GEF) was established on the eve of the 1992 Rio Earth Summit to help tackle our planet's most pressing environmental problems. Since then, the GEF has provided more than $21.1 billion in grants and mobilised an additional $114 billion in co-financing for more than 5,000 projects in 170 countries. The GEF has provided support to more than 25,000 civil society and community initiatives in 133 countries through its Small Grants Programme. https://www.thegef.org/
Global Wildlife Program (GWP) is funded by the GEF and led by the World Bank. The program includes 37 projects across 32 countries in Africa, Asia, and Latin America, aiming to combat illegal wildlife trade and promote wildlife-based economies. https://www.worldbank.org/en/programs/global-wildlife-program
Illegal Wildlife Trade Challenge Fund (IWTCF) is a UK government competitive grants scheme under the Department of Environment, Food & Rural Affairs aimed at eradicating the illegal trade in wildlife. Through the IWTCF, £37 million has been allocated to 113 projects in over 50 countries since 2014. https://www.gov.uk/guidance/illegal-wildlife-trade-challenge-fund-iwtcf
Tourism Authority of Thailand (TAT) The state enterprise with the vision to promote Thailand as a sustainable and preferred destination for tourism. https://www.tat.or.th
United Nations Development Programme (UNDP) is the leading United Nations organisation fighting to end the injustice of poverty, inequality, and climate change. Working with our broad network of experts and partners in 170 countries, we help nations build integrated, lasting solutions for people and the planet. Learn more at www.th.undp.org
U.S. Fish and Wildlife Service (USFWS) International Affairs program coordinates domestic and international efforts to protect, restore, and enhance the world's diverse wildlife and their habitats with a focus on species of international concern. The Wildlife Without Borders program and the International Wildlife Trade program promote conservation across the globe. In 2016, USFWS launched a Combating Wildlife Trafficking Grant Program to fund innovative projects to halt wildlife trafficking. https://www.fws.gov/international/about-us/
ZSL (Zoological Society London) was founded in 1826 and is a leading organization devoted to the worldwide conservation of animals, habitats, and assisting communities living alongside them. ZSL has contributed to conservation and research efforts in over 50 countries. Its two zoos, ZSL London and Whipsnade Zoos, help inspire wildlife conservation among the public. https://www.zsl.org
---