Karnataka gears up to fight wildlife crime
Karnataka, India, 27th February 2012—Seventy one forests officials met last week to examine methods for Strengthening Wildlife Law Enforcement. The meeting, which took place over the weekend of 18-19th February at Anshi Tiger Reserve, Dandeli in Karnataka, was organized by Karnataka Forest Department with support from TRAFFIC. 
---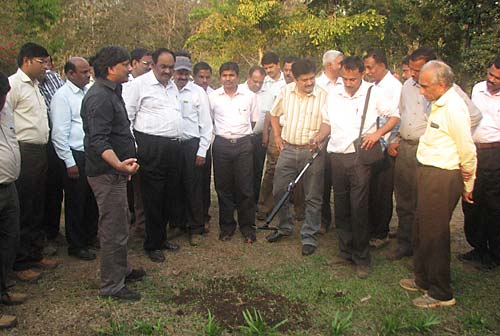 TRAFFIC provides training and inputs to a diverse group of officials working on wildlife enforcement and other related issues. 
A lack of adequate knowledge and skills was identified as a major gap among such officers, and therefore building capacity has become a significant component of TRAFFIC's strategy to help curb illegal wildlife trade in India. 
Mr B K Singh, PCCF (WL) inaugurated the workshop, with Ms Pallavi R, Judicial Magistrate Forest Council present for the inaugural session.
Mr B K Singh said that the workshop would surely help his team to take on board more knowledge regarding wildlife laws and their implementation, and asked TRAFFIC India to take lead in organizing more training workshops across the State. 
At the meeting, TRAFFIC provided materials and information on a range illegal wildlife trade issues. They included: forensics as a tool to fight wildlife crime, the role of CITES, evaluating the scene of wildlife crime, setting up and handling information networks, conducting search and seizures, developing documentation that leads to successful prosecution in a court of law and more. 
Participants also learned about new tools and technology to tackle wildlife crime, such as the use of deep search metal detectors and wildlife sniffer dogs to combat poaching gangs and to break interregional wildlife trafficking routes. 
Mr Samir Sinha, representing TRAFFIC, spoke about different aspects of illegal wildlife trade and how it has become an organized criminal activity. He called for greater transboundary co-operation and vigilance in tackling this growing menace and emphasized that co-operation between various agencies is necessary to prevent drainage of India's precious natural heritage.
Technical assistance at the meeting was also provided by Dr SP Goyal (Wildlife Institute of India), Ritwick Dutta (Lawyer-Supreme Court) and Saurabh Sharma (Lawyer-High Court).
---