Judiciary workshop on wildlife crime a Thai first
Nakon Ratchasima, Thailand, 13th March 2008—The Supreme Court of Thailand this week hosted the nation's inaugural "Judiciary Workshop on Wildlife Crime and Prosecution" as part of the judiciary's commitment to tackle organized poaching and trafficking of wild animals and plants in Southeast Asia.
---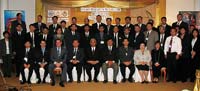 The two-day workshop brought together representatives of Thailand's judicial sector selected by the Supreme Court of Thailand, and focused on Thai laws governing protection of wildlife, investigations and prosecutions. 
Judicial officers from Viet Nam, Malaysia and the USA also attended, to share best practices and intensify the fight against transnational criminals involved in the wildlife trade. 
Speaking at the opening ceremony, Justice Sobchok Sukharomna, President of the Environment Court, said the workshop presented an opportunity for judiciary personnel to discuss wildlife trade law enforcement and how to apply legislation to protect Thailand's natural resources. 
Wildlife law enforcement officers across the region have appealed for stiffer penalties and increased prosecution rates to deter wildlife crime. 
Klairoong Poonpon, Liaison Officer of the ASEAN Wildlife Enforcement Network (ASEAN-WEN) Program Coordinating Unit, commented: "To deter illegal wildlife dealers successfully, ASEAN-WEN needs co-operation from judges and prosecutors, and their full understanding of the irreparable damage these criminals are causing to our ecological systems. 
"We hope that through this seminar, judges and prosecutors will realize that the best deterrents against wildlife crimes are penalties proportional to the damage caused."
Azrina Abdullah, TRAFFIC's Regional Director for Southeast Asia, commented: "We welcome Thailand's Judiciary and the Prosecution Office of the Ministry of Justice's commitment to work with other agencies to protect the country's wildlife and forests from exploitation." 
The workshop was co-sponsored by the Supreme Court of Thailand and the US Department of State and was the third held in ASEAN-WEN countries, following the success of a similar events in the Philippines and Indonesia last year. A fourth workshop is planned in Viet Nam in mid 2008. 
TRAFFIC and Wildlife Alliance, via a cooperative partnership with USAID, are providing technical assistance to government agencies that are implementing ASEAN-WEN. The US Department of Justice provides legal training on case scenarios and prosecution best practices. 
---