Ivory seizure highlights ongoing illicit trade in Viet Nam
Quang Ninh, Viet Nam, 23rd March 2010 - Vietnamese authorities have confiscated nearly 150 kg of elephant ivory in the Vietnamese province of Quang Ninh on the border with China. Authorities made the seizure, which included 30 elephant tusks and 15 worked ivory pieces, from a car en route to the Vietnamese border town of Mong Cai on 19 March. The five passengers told police the goods were intended for sale in China.
---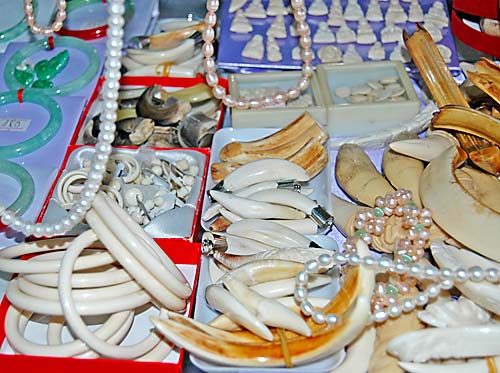 No arrests have yet been made and the investigation is ongoing.
This seizure highlights the ongoing illicit ivory trade that afflicts Viet Nam and the Southeast Asia region at large. Increasingly, wildlife traffickers affiliated with criminal syndicates appear to be smuggling elephant ivory from Africa into Southeast Asia for domestic consumption or for re-export to countries elsewhere in the region. 
According to the latest Elephant Trade Information System (ETIS) report, the world's largest database on ivory seizures, demand in China is a significant driver of the ivory trade, with Thailand and Viet Nam highlighted as countries of concern in the region. 
In Viet Nam, elephant populations have declined to historically low numbers, with an estimated fewer than 150 individuals remaining in the wild, despite a 1992 ban on ivory trade.
This seizure took place at a time when more than 130 countries are meeting in Qatar for a Convention on International Trade in Endangered Species (CITES) conference. 
Yesterday, governments at CITES did not give approval for two countries – Zambia and Tanzania – to sell their ivory legally through CITES, nor to downlist their elephant populations within the Convention, a necessary precursor for any sale to happen. A Kenyan proposal to prevent any legal ivory sales for 20 years was withdrawn. 
"The decision not to allow further ivory sales at this stage is a prudent one, given the current high levels of poaching. However, the issue of whether sales should be allowed or not detracts from the real issue that appears to be driving the poaching of elephants, namely the continued existence of illegal, unregulated domestic ivory markets in parts of Africa and Asia," said Richard Thomas, Communications Co-ordinator for TRAFFIC, the international wildlife trade monitoring network.
Last week at the CITES conference, Vietnamese officials were recognized for their efforts to combat wildlife trafficking with the Secretary-General's Certificate of Commendation, awarded to Customs Officials working in the port of Hai Phong. Hai Phong is a popular transit point in the regional wildlife trade and has been the site of a number of high-profile seizures over the past year. 
The ETIS analysis can be downloaded from the CITES website at: https://www.cites.org/sites/default/files/common/cop/15/doc/E15-44-01A.pdf
---