Ivory Bill unveiled for Jungle City 2011
Cambridge, UK, 12th August 2011—TRAFFIC today unveiled "Ivory Bill", a hornbill statue that will be on display this August and September, when Scotland's capital city, Edinburgh, will be transformed into a jungle, filled with iconic animals.
---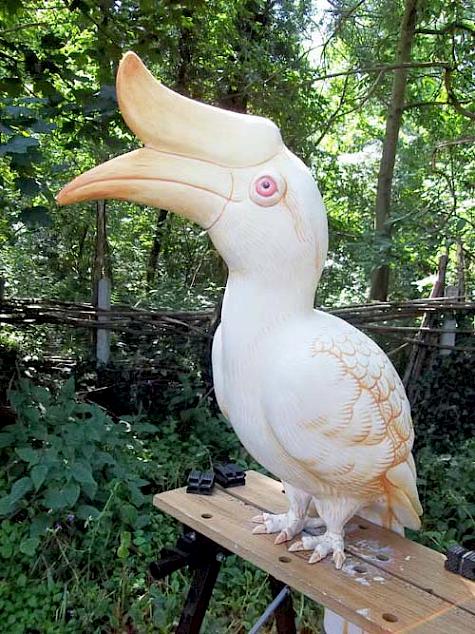 The Jungle City event will feature 130 life size sculptures of some of the planet's most endangered species and aims to raise GBP1 million for their survival.
A number of conservation charities, including TRAFFIC, were invited to host a statue. At the end of the event, these statues will be auctioned to raise funds for their respective charities. 
The remainder of the statues will be auctioned to raise funds for Elephant Family, the organiser's of this year's event, to support their work to save Asian Elephants and other animals that share elephant habitat, such as tigers and orangutans, from extinction in the wild. 
TRAFFIC's statue—kindly sponsored by Joachim and Pereshia Berlenbach and their friends in recognition of Joachim's 50th birthday—has been painted by renowned wildlife artist Richard Allen who has painted it to give it the appearance of ivory. 
"The link between hornbills and elephants may not be immediately obvious, but the there are a number of ways in which the two overlap," says Richard Allen. 
"The solid bill-casques of Rhinoceros Hornbills have for centuries been used as an ivory substitute, and carved into decorative items and traded widely." 
Allen also points out the similarity in their geographic ranges—both are found only in Africa and Asia, and also in their habitats. 
Hornbills, like elephants are powerful flagship species for conservation efforts in both continents. 
The statues are destined to become highly collectible works of art, and will grace The Royal Botanic Gardens from mid-August before being unleashed onto the streets of Edinburgh throughout September. 
Afterwards, it will be possible to bid online for Ivorybill and other statues in the exhibition between 23rd September and 2nd October, when the auction closes. 
Last year Elephant Family helped organize the highly successful Elephant Parade 2010 in London, when TRAFFIC's Tigerphant statue sold at auction for GBP14,000, a sum that helped support our work on trade in Asian Elephants.
Update: the final bid price for Ivory Bill was GBP810 pounds - many thanks to the anonymous bidder.
---