ITTO: moving forwards with sustainable forestry management
Yokohama, Japan, 9th November 2012—The International Trade and Timber Organization (ITTO) should utilize its credibility and convening power more to help countries understand and address the challenges posed by poor governance and issues such as tenure rights in the global timber trade, was one of the key messages delivered to delegates at the 48th ITTO Council meeting that recently concluded in Yokohama. 
---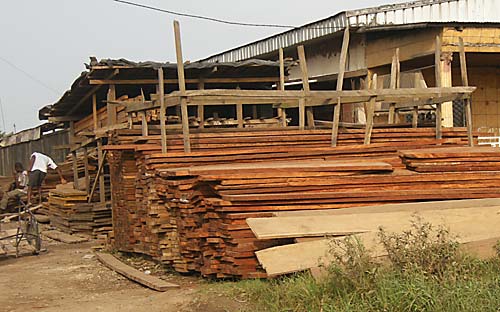 The comments came in a statement made to ITTO members by the organization's Civil Society Advisory Group (CSAG), who called upon the organization to take a number of measures aimed at improving management of the global timber trade. 
Currently United Nations ITTO is the only international body that has the sustainable management of tropical forests and sustainable trade in tropical timber as its mandate. 
TRAFFIC's Timber Trade Programme Leader, Chen Hin Keong, and Producer Country co-chair of CSAG commented: "While the ITTO remains highly relevant to the global timber trade, the CSAG notes with some concern that the Organization's Guidelines for the Sustainable Management of Natural Tropical Forest were published in 1990 and have not been updated. The forestry world has moved on to address a number of issues and challenges since then, not least climate change, and unless ITTO adopts the new, revised, voluntary Guidelines, the Organization risks losing its relevance in today's world."
The CSAG statement presented to ITTO delegates also noted the Group's concern that there was insufficient social expertise used when evaluating timber trade projects from the proposal stage onwards, in particular on the nature and extent of participation processes and the context of empowerment and offered the CSAG's expertise in this area. 
The Group also encouraged ITTO to adopt a proposed new Thematic Programme on Biodiversity to present a platform for the implementation of the ITTO/Convention on Biological Diversity (CBD) Collaborative Initiative to Conserve Tropical Forest. 
The initiative will benefit from the availability of new tools such as the FairWild Standard for sustainable management of wild-harvested plants, and tools now available to manage the trade of non-timber forest products (NTFPs). Also relevant is the new Toolkit for implementation of the CBD's Global Strategy for Plants Conservation (GSPC) that contributes to the delivery on Aichi Biodiversity Targets and provides practical approaches to sustainable forestry management. 
---