Info TRAFFIC focuses on Central Africa
Cambridge, UK, 10th February 2009--TRAFFIC's new programme in Central Africa features in the latest issue of info TRAFFIC. The recently opened TRAFFIC office in Cameroon is focusing on the trade in wild meat, on good timber trade governance, and on closing down illegal domestic ivory markets and ivory smuggling routes in the Central African region. 
---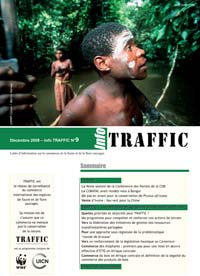 Highlights of Issue 9 are articles introducing the key priorities and objectives of TRAFFIC in Central Africa and the past/current work of this new subregional office. Attention is drawn to the strong support of WWF and IUCN in the subregion, along with other partners and/or institutional organizations such as the Central African Forest Commission – COMIFAC. 
This issue also highlights TRAFFIC's work in Central Africa implementing ETIS (Elephant Trade Information System) in Cameroon and the Democratic Republic of Congo, the development of its wild meat project in Central Africa and the importance of GFTN (Global Forest Trade Network)/TRAFFIC work on legality issues in central African countries. 
Other items include summaries of the latest Convention on Biological Diversity Conference of the Parties developments regarding utilization and trade of wild species and resources with an emphasis on Central Africa (CoP 9, Bonn, Germany, May 2008); the COMIFAC meeting in Bangui – Central African Republic, September 2008); the Prunus africana workshop in Naivasha, Kenya, in September 2008); and the CITES Standing Committee decision in July 2008 to approve China as a buyer for a one-off sale of ivory. A two page section on seizures and prosecutions includes a selection of recent CITES violations in 2008.
---