Indonesia arrests suspected Tiger trader
Palembang, Indonesia, 4th March 2016—Indonesian Police have arrested a suspect for attempting to sell Tiger parts in the south Sumatran town of Lubuklinggau.
---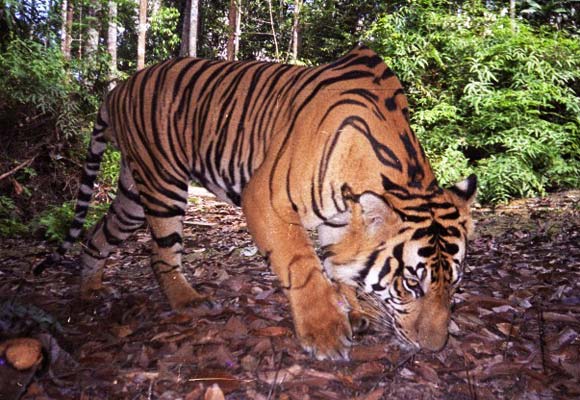 An enforcement team comprising police officers from the provincial capital of Palembang and the Regency discovered the Tiger parts during a raid on the home of a local farmer. Authorities made the arrest last Thursday, after making a deal with the suspect to purchase the Tiger skin that measured 130 cm. The Tiger's bones had been removed and were also offered for sale.
The seizure and arrest were conducted with information and assistance from the Centre for Orangutan Protection (COP), Zoological Society of London (ZSL) and TRAFFIC.
'"We applaud the decisive action taken by the authorities to stop this alleged Tiger trader. This case illustrates the importance of government-NGO collaboration in fighting wildlife crime,'' said Kanitha Krishnasamy, Senior Programme Manager for TRAFFIC in Southeast Asia.
"In our region, Indonesia has made more arrests of Tiger poachers than any other country in recent times, thanks to a serious crackdown by the government. This case is another illustration of the leadership they have taken and more of this needs to happen elsewhere in the region."
As recently as last month, authorities arrested two traders in Bengkulu Province in southwestern Sumatra with the skin, bones and canines of a Tiger. Authorities said they believed the suspects were part of a network operating throughout Sumatra and initial investigations showed the group had sold eight poached Tigers since 2011.
"The high demand for Tigers and their diminishing habitat does not bode well for the species. Those caught selling such endangered animals should be severely punished, so that it serves as a deterrent for other would-be perpetrators," said Daniek Hendarto, Manager of Anti Wildlife Crime of COP. "We greatly appreciate that the authorities are able to cooperate with conservation stakeholders in combating illegal wildlife trade and hope that the scale of this problem can be reduced through collaborative action," he added.
The smallest of the Tiger sub-species, the Sumatran Tiger Panthera tigris sumatrae is threatened by shrinking habitats and poaching for the illegal trade. Indonesia made at least 42 seizures, accounting for 25% or all seizures that took place in Southeast Asia from 2001 to 2012. This involved a minimum of 94 Tigers.
---