Indian Tiger numbers burning brighter
Delhi, India, 28th March 2011—A census of Tigers released today by the Indian Environment and Forest Ministry estimates the national population as 1,706 animals, substantially more than the 1,411 animals reported following the previous Tiger census in 2007. 
---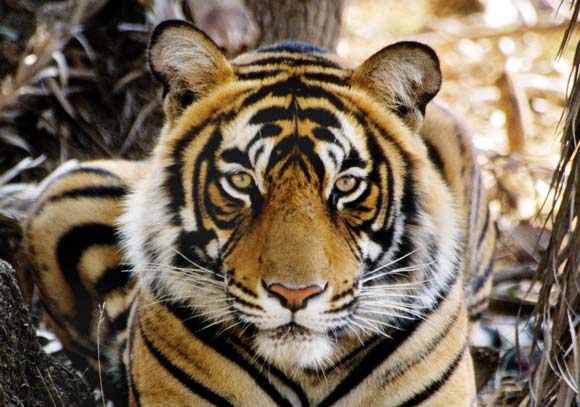 "Today's figures are an encouraging sign that the Indian government's measures to curtail poaching may be beginning to have a real impact on Tiger numbers," said Steven Broad, Executive Director of TRAFFIC International. 
The latest total includes 70 Tigers found in the Sundarbans Tiger Reserve, which was not counted in the previous survey because of the difficulty of surveying mangrove habitats. This time round, camera-traps and DNA analysis were used to estimate Tiger numbers in the Reserve. 
But even without the Sundarbans, the latest figures indicate a 12% rise in the overall Indian Tiger population, which Environment Minister Jairam Ramesh described as "a very encouraging sign." 
India, with more than 45,000 square km of forest area within 39 designated Tiger reserves, hosts approximately half of the world's wild Tiger population. 
"While the latest figures from India are certainly encouraging, we should not be complacent," said Broad. 
"Any gains in Tiger numbers will soon be undone unless Tiger habitats are maintained and increased, and Tiger poaching and trade is suppressed; there is still a long way to go to achieve the stated international ambition of a doubling in Tiger numbers by 2020."
Numbering more than 100,000 at the turn of the last century, Tigers have lost more than 97 percent of their population and 94 percent of their home range in the past 100 years, and are under high poaching pressure because of the demand for Tiger parts, including bones, claws and skin from East Asia, where they are used in traditional medicine.
"Although there are signs of hope from India, the Tiger nevertheless remains in crisis across much of Asia," said Broad. 
The latest Tiger census figures were released at the start of a three-day international conference on Tiger conservation taking place this week in Delhi. 
The conference brings together Tiger experts to review implementation of the Global Tiger Recovery Program (GTRP), a worldwide plan finalized by world leaders at the historic Tiger summit last November in St. Petersburg, Russia, to bring Tigers back from the brink of extinction. 
In Delhi, high-level government representatives from Tiger range countries will present their national priority actions for implementation of the GTRP in 2011, with international partners outlining their support to assist these actions. 
Partners include the World Bank's Global Tiger Initiative, the Global Tiger Forum, and CITES (Convention on International Trade in Endangered Species of Wild Fauna and Flora) plus key NGOs including TRAFFIC and WWF. 
---