Illegal wildlife trade highlighted during Conservation Asia 2016
Singapore, 7th July 2016—more than 600 people from 37 countries attended the Conservation Asia 2016 conference held in Singapore from 29th June–2nd July hosted by the National University of Singapore. 
---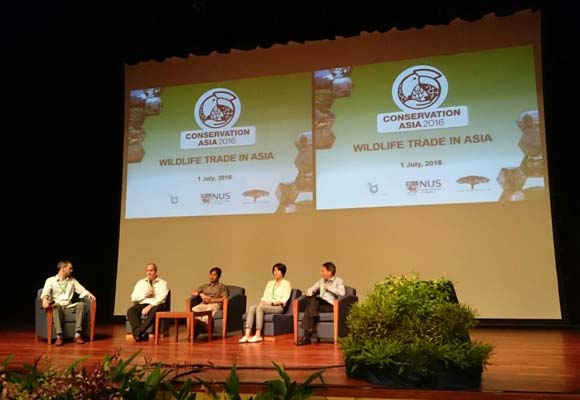 The conference was the first time the Asian chapters of the two largest non-profit international organizations devoted to the conservation of biodiversity—the Society for Conservation Biology Asia and the Association for Tropical Biology and Conservation Asia-Pacific—who between them have more than 10,000 members worldwide had held a joint meeting. 
The topical theme of the conference was Sustainable Landscapes for People, Business and Biodiversity. 
Conservationists, researchers and other relevant stakeholders shared and discussed local, regional and international issues and findings on a wide range of topics, with illegal and unsustainable wildlife trade, and the resulting impacts on wildlife conservation one of the key topics covered. 
TRAFFIC participated in two panel discussions and presented on the trade and conservation of eels during the session devoted to illegal wildlife trade.
"Wildlife in Southeast Asia is under extreme threat, but such collaboration between so many experts gives one hope—it was heartening to see so many people coming together to better the world in which we live, through sharing their work, their findings and their concerns," said Dr Chris R Shepherd, Regional Director of TRAFFIC in Southeast Asia. 
Conference participants widely recognized illegal wildlife trade as a serious and urgent threat to nature conservation in Asia and prioritized the drafting and adoption of a Resolution on Reducing Illegal Wildlife Trade and Trafficking in Asia (PDF, 250 KB). 
---
About TRAFFIC

TRAFFIC is a leading non-governmental organisation working globally on trade in wild animals and plants in the context of both biodiversity conservation and sustainable development whose mission is to ensure that trade in wild plants and animals is not a threat to the conservation of nature. More information at www.traffic.org