How to help your hotel help nature
Cambridge, UK, 2nd October 2008—From cotton towels and sheets in guest rooms, to food in the restaurant and wood used for furniture and fittings—the products of biodiversity are everywhere inside hotels. Outside, plants and animals make a hotel's public spaces and gardens attractive for guests, while beyond the hotel gates, parks, green spaces, coasts and natural habitats provide guests with opportunities for recreation and enjoyment. 
---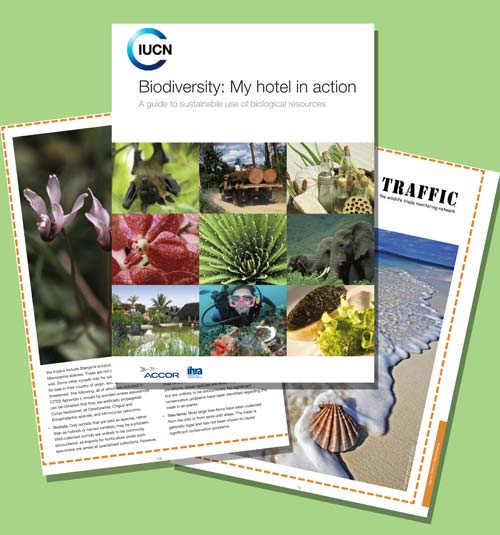 Recognizing these important links, Accor, one of the world's leading hotel companies, has joined forces with the International Union for Conservation of Nature (IUCN), to develop guidelines on the sustainable use of biological resources in hotels' everyday operations. The guide includes technical factsheets developed by TRAFFIC, listing conservation issues and advice on which wildlife species to choose and which to avoid.
"We have identified actions in all operational areas that will help hotels minimize their impact on the environment and contribute to biodiversity conservation," said Giulia Carbone, of IUCN's Business and Biodiversity Programme. "Hotels can have positive effects on nature conservation, as the examples in this guide show."
The guide, Biodiversity: My hotel in action (PDF, 3.2 MB) is aimed at all hotel managers and owners of small and large hotels, located anywhere, from cities to mountains and coastal areas. 
"Deciding where to locate hotels and how to design them, how to manage energy and water consumption effectively, and how to dispose of waste properly were all topics covered in detail in a number of existing valuable publications," says Patricia Cortijo, Accor's Environment Director. "What we didn't have until now, however, was a reliable reference on how to minimize our direct impact on biodiversity during everyday operations."
The guide is structured around the main operational areas of a hotel: restaurants, public areas, including the spa, guest rooms, hotel souvenir shops, hotel grounds and gardens. It also covers the relationships a hotel can establish with the surrounding community. For each of these areas, the guide provides management tips focusing on what can be done internally, with the suppliers, with the clients and with the community.  The management tips are then complemented with the technical fact sheets developed by TRAFFIC.
"From tuna and salmon to seafood specific to Asia, to medicinal and aromatic plants, to live animals and plants used in hotel grounds, to wildlife-based souvenirs; restaurant chefs, spa mangers, interior designers and shopkeepers will all find detailed guidance on how to make responsible purchasing decisions in this publication," said Richard Thomas, TRAFFIC's Communications Co-ordinator. 
The International Hotel and Restaurant Association  (IH&RA) has also joined forces with IUCN and Accor. "Biodiversity conservation is one of the priorities we see in front of us," says Ghassan Aidi, President of the International Hotel and Restaurant Association. "This initiative is going to be a valuable first step in raising awareness among our members with other initiatives that our Chain members are doing right now and the definition of the criteria for sustainable development that we were part at UN foundation, about the value of biodiversity and the actions that hotels should take to save it."
The guide will be formally launched the IUCN World Conservation Congress on 8 October during a workshop organized by Accor.
The financial support of the French Ministry of Ecology, Energy, Sustainable Planning and Development and the French Ministry of Foreign Affairs have been instrumental in completing the project.
---