Gum Arabic: sapping natural resources or a chance for sustainable development?
Found in supermarket products, pharmaceuticals, and construction materials, gum arabic, or 'E414', is a wild-harvested natural ingredient hidden in everyday products. Have you ever considered where it comes from, who harvests it, and how it makes its way into your home?
---
Also known as acacia gum, this wild-harvested product is added to bind ingredients of many foods, medicines, cosmetics, and even inks and paints. It's made from the hardened sap of various species of the acacia tree, including Senegalia senegal, native to many countries in sub-Saharan Africa. These trees are vital in the fight against climate change by holding water and nutrients in the soil to slow down the process of desertification.
We may not think twice about this E number on the back of a can when buying a fizzy drink. Behind those four small digits lie complex supply chains and significant environmental and social risks. But there are also opportunities for sustainable management that could benefit the local ecosystems and the communities that depend on this plant."
Caitlin Schindler, TRAFFIC's Wild at Home Project Manager'WildCheck: Assessing risks and opportunities of trade in wild plant ingredients,' a report co-produced by TRAFFIC, FAO, and the IUCN Species Survival Commission Medicinal Plant Specialist Group, investigated the risks and opportunities for twelve flagship wild plant ingredients, dubbed the 'Wild Dozen.'
"The purpose of our social and biological risk ratings is not to dissuade businesses and consumers from using wild plant ingredients that can be harvested sustainably. On the contrary, it is to guide where steps can be taken to secure the long-term survival of wild-harvested species and availability of the sourced ingredients, improve marginalised livelihoods and enhance business ethics," says Danna J. Leaman, Co-Chair of the IUCN SSC Medicinal Plant Specialist Group.
Current issues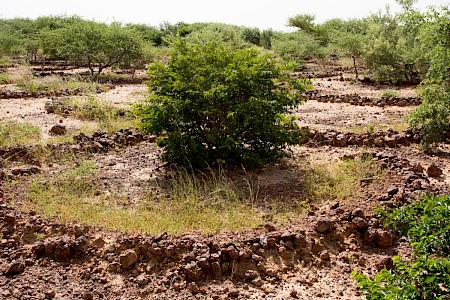 The conservation status of this vital plant has not been globally assessed, but like many other sap producing plants in the region, Senegalia senegal faces multiple threats, including habitat decline due to climate change, livestock grazing, droughts, fires, and overharvesting.
And it's not just the trees that face difficulties. To harvest the sap by hand in the height of the sweltering dry season is strenuous work, often carried out by local families (including children) and seasonal and nomadic workers. Despite the low pay and difficult working conditions, the harvest provides much-needed income to put food on the table during the off-season of other agricultural activities.
Sven Walter, Senior Forestry Officer at FAO, adds, "The sustainable use of wild plants has critical implications for food security and for millions of livelihoods around the world. It is time that wild plants are given more serious consideration in our efforts to protect and restore habitats, promote sustainable agrifood systems and build inclusive, resilient and sustainable economies, particularly as countries work on post-Covid recovery."
On top of this, as the world has recently seen with many natural products, political unrest and other external factors can significantly affect prices and profits for producers. Impacting this is a lack of investment in local processing facilities for gum arabic. This means that many African countries export crude gum arabic at low prices and then re-import the processed gum at considerably higher costs.
A chance for sustainable growth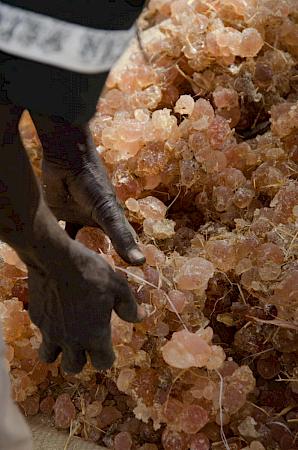 The global demand for wild plant ingredients is increasing - their international trade value has grown by a staggering 75% over the past two decades. Exports of unprocessed and semi-processed gum arabic have almost tripled in the last 25 years, from an annual average of 35,000 tonnes between 1992 and 1994 to 102,000 tonnes between 2014 and 2016.
Alongside their economic potential, the WildCheck report looks at where the opportunities lie for environmental conservation amid this surge in global demand for wild plant ingredients.
Senegalia senegal and other acacia varieties are critical species used to rehabilitate dryland vegetation in the Great Green Wall Project. This project aims to create a new forest spanning the width of the African continent, where gum arabic would be the most commercially valuable sap-producing species, creating income-earning opportunities for local people and contributing to restoring biodiversity.
Caitlin Schindler suggests that with the support of local groups, NGOs, and other businesses in partnership with harvesters, responsible harvesting of existing acacia trees and planting more, could have a triple benefit. "Organisations like The Network for Natural Gums and Resins in Africa (NGARA) are supporting producer countries to sustainably develop their natural gum resources, so that marginalised communities can earn a viable living and contribute to local conservation efforts such as limiting desertification - all the while supplying the growing global demand for gum arabic's use in products like fizzy drinks."
Gum arabic is just one example of the complex stories behind the thousands of wild-harvested ingredients in our everyday products. Read the WildCheck Report to learn more.
So what can consumers do?
Make informed decisions, keep up to date on trends in wild plant use, and transform your environmentally and socially conscious values into action.
The WildCheck Report is a starting point to learning more about the Wild Dozen ingredients.
Celebrate when you are about to buy or use a product containing a wild plant ingredient! Share a photo on social media using #IFoundWild. Tag your family and friends and encourage them to search for wild ingredients. The WildCheck Report contains information on how to find these ingredients in your products.
Buy certified, such as FairWild, UEBT, FairTrade, Fair for Life, organic, PEFC, and FSC, among others, wherever possible.
If a certified ingredient/product is not available, ask your favourite brands via their social media or Contact Us page:
Do they know what wild-harvested plant ingredients are in their products, where they come from, and how they are sourced?
How do they ensure products are harvested sustainably and that producers and harvesters are fairly paid without certification?
What do they do to support harvesting communities and wider biodiversity in the harvesting regions?
---
Notes:
More information on the WildCheck Report
The 'Wild Dozen' is a list of twelve wild-harvested plant ingredients, selected to represent the types of risks and opportunities that can face all wild-harvested plants.
Gum arabic or acacia gum is a natural gum usually used as a thickener, emulsifier and binder in food with the European food additive number E414.
---
About Food and Agriculture Organisation of the United Nations (FAO)

The Food and Agriculture Organization (FAO) is a specialised agency of the United Nations, supporting the transformation to more efficient, inclusive, resilient and sustainable agri-food systems. The conservation and sustainable use of wild plants and non-wood forest products is a key area of work in the FAO Forestry Division, with the aim of contributing to the sustainable management of the world's forests, the conservation of biological diversity, and ultimately improving livelihoods, food security and nutrition. 
About IUCN Species Survival Commission:

With over 10,500 members in 174 countries, the Species Survival Commission (SSC) is the largest of the six expert commissions of IUCN and enables IUCN to influence, encourage and assist societies to conserve biodiversity by building knowledge on the status and threats to species, providing advice, developing policies and guidelines, facilitating conservation planning, and catalysing conservation action. Learn more at www.iucn.org/ssc
About IUCN MPSG

The IUCN SSC Medicinal Plant Specialist Group (MPSG) is a global network of specialists contributing within our own institutions and in our own regions, as well as world-wide, to the conservation and sustainable use of medicinal plants. The MPSG was founded in 1994 to increase global awareness of conservation threats to medicinal plants, and to promote sustainable use and conservation action. 
About Swedish Postcode Foundation
The Swedish Postcode Lottery believes that a strong civil society is essential for creating a better world. The Postcode Foundation's goal is to carry out that mission through projects that challenge, inspire and promote change.