Green growth for the TCM industry in China
Lishui, Zhejiang province, China, 18th December 2013—Over 100 representatives from Traditional Chinese Medicine (TCM) companies, government, academia, and NGOs convened in Lishui in November at the inaugural meeting of a project to promote sustainable management of medicinal and aromatic plant resources by the private sector.
---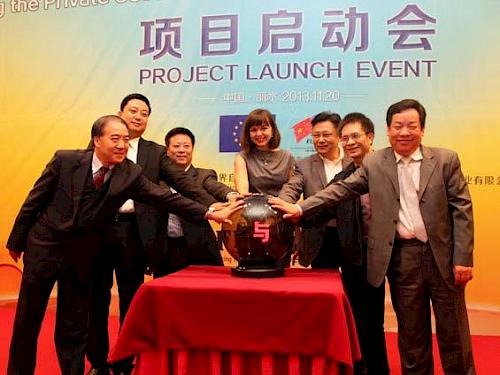 Partners in the European Commission funded Environmental Governance Programme (EGP) "Engaging the private sector in sustainable management of medicinal plants—the multiplier effect" include TRAFFIC, Wecome Pharmaceutical Ltd, the World Federation of Chinese Medicine Societies (WFCMS) and WWF China. 
Government representative Chen Jingfei spoke of the vision for Lishui to become China's "first ecological city", through fostering co-operation between government, industry associations and pharmaceutical companies to incorporate the principles of sustainable development into their use of TCM materials. 
Liu Changlin from the municipal branch of the Ministry of Environmental Protection spoke of the crucial importance of sustainable business practices to ensure a continuous supply of TCM products to deliver healthcare in the region. 
Their words were echoed by Dai Dexiong, General Manager of Wecome Pharmaceutical Ltd, who said: "Wecome is pleased to be at the forefront of efforts to build a green supply chain through participation in this innovative project that will also help with the aim of turning Lishui into an ecological city." 
The project will focus on the sustainable supply of several TCM plants, including two important ingredients—Magnolia Magnolia officinalis and Honeysuckle Lonicera spp.—through working closely with TCM industry to apply the FairWild Standard principles to harvesting and trade practices. 
Five TCM companies—Zhejiang Wecome Pharmaceutical Ltd, Zhejiang Shenghua Medicine Co., Hunan Songlintang TCM Co., Yunhe Zizhutang TCM Development Co. and Zhejiang Wangjing She Ethinc Medicine Co., which includes both traders and manufacturers from Zhejiang and Hunan provinces—have already signed a sustainability commitment declaration, demonstrating their interest in moving towards greening their supply chains. 
Huang Jianyin, Vice Secretary-General of WFCMS said: "TCM plants are valuable national treasures and the cornerstone of our TCM industry. TCM practitioners and the TCM industry should ensure every effort is taken to conserve these plant resources and seek sustainable development opportunities." 
"China is both a major source and consumer of medicinal plants worldwide—this project will support leaders in the TCM sector in greening their supply chains, moving towards better environmental governance," said Jianbin Shi, Director of TRAFFIC's programme in China. 
"TRAFFIC is committed to supporting implementation of the FairWild Standard principles to improve the outlook for wild plant species and for the people who depend upon them," said Anastasiya Timoshyna, TRAFFIC's Medicinal Plants Programme Leader.
Following the official initiation of the project, training on implementation of the FairWild Standard took place, geared towards the needs of TCM manufacturers and traders. The training was followed up by the visit of selected TCM sourcing locations in Zhejiang province, including harvesting communities from the She Ethnic Minority. 

This communication has been produced with the financial assistance of the European Union. The contents of this communication are the sole responsibility of TRAFFIC and can under no circumstances be regarded as reflecting the position of the European Union
---