G20 leaders commit to intensify fight against corruption related to illegal wildlife trade
Hamburg, Germany, 11th July 2017—Heads of the world's 20 major economies, the so-called "G20 leaders", have ended meetings last week in Hamburg with a Declaration that includes a strong pledge to address the corruption that facilitates wildlife trafficking.
---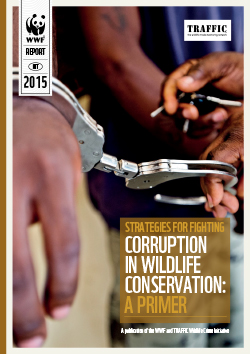 The post-meeting Declaration, reads: "We will intensify our fight against corruption related to illegal trade in wildlife and wildlife products. Wildlife trafficking is a threat to the planet's biodiversity, economic development, and, among others, health and security, and is facilitated by high levels of corruption, which the G20 cannot tolerate."
An annex to the Leaders' Declaration on the G20 High Level Principles on Combatting Corruption Related to Illegal Trade in Wildlife and Wildlife Products gives further information about the actions needed to address illegal wildlife trade, which the document notes is "one of the largest and most profitable forms of organized cross-border crime with links to financing armed conflicts…" and "has negative impacts on the economic development in many countries and represents a threat to health and safety, security, good governance and the sustainable development of states."
The annex sets out the areas where corruption is encountered—everything from bribery or misuse of power and office by officials, the deliberate abuse of the complex cross-border and permit-based system under the Convention on International Trade in Endangered Species of Wild Fauna and Flora (CITES), through to influencing investigations and prosecution of offenders.
In October 2016 CITES Parties adopted a Resolution calling on its members to ensure the implementation, enforcement and effectiveness of CITES by "adopt[ing] measures to […] detect and counter instances of corruption".
To enhance cross-border information exchange as a means to combat corruption linked to wildlife trafficking, the annex makes specific reference to the use of Trade in Wildlife Information eXchange (TWIX) systems, such as those TRAFFIC has helped spearhead in Europe and Africa.
In other measures to address corruption, the G20 proposes to lead by example through implementing four High Level Principles that focus on: strengthening frameworks to combat corruption linked to illegal trade in wildlife and wildlife products; prevention; investigation, prosecution and sanctioning; and (self-)assessment of progress.
The G20 Leaders' strong commitments to address the intolerable corruption that facilitates wildlife trafficking need to be backed up with further ongoing financial, technical and political support to turn their bold words into effective concrete actions
Steven Broad, TRAFFIC's Executive Director
"We hope that this Declaration will provide the high-level political impetus that will lead to effective implementation of the Resolution".
---