Frontliners at Malaysia's international postal hub equipped with tools to detect wildlife in the mail
Wildlife smuggling through parcels took centre stage at Malaysia's main international gateway for mail with the rollout of awareness materials and training for frontliners tasked with detecting such parcels at the Pos Malaysia International Hub (PMIH).
---
Pandemic-related movement restrictions and the explosion of online shopping have driven the use of mail, courier, and parcel services. The phenomenon has presented greater opportunities for traffickers to move their illicit goods worldwide, including through Malaysia.
TRAFFIC's analysis showed 3,100 wildlife, parts and products were seized in trafficking incidents via post and courier implicating Malaysia as a source, transit or final destination between 2008 and August 2021. An additional 624kg pangolin scales were also seized during the same period.
As part of efforts to address the problem, some 40 Pos Malaysia staff, auxiliary police and Customs officers involved in the daily screening of parcels and mail for dangerous and prohibited goods attended courses that provided them with knowledge on commonly traded wildlife, methods used by traffickers to ship and conceal these, and ways such mail and parcels could be detected.
Smugglers constantly change tactics to avoid being detected. They either change trade routes or how they conceal their contraband. It's important that post and logistics providers are constantly updated on the various methods used by smugglers."
Renee Yee, TRAFFIC Training and Capacity Building Officer and project lead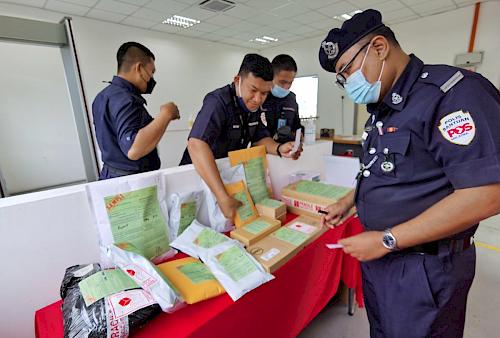 An exhibition to highlight the important role participants could play to increase detection of wildlife in the mail was held at the same time. Displays and quizzes called attention to the problem and challenged participants' knowledge of ways to detect suspicious parcels. There were over 100 entries for the quizzes from personnel at the hub.
The training and exhibition will be followed by the rollout of a suite of awareness materials, including posters, banners, videos and infographics targeted at those working at the PMIH. Staff manning scanners have also received a guidebook featuring x-ray images of commonly trafficked wildlife parts which provides a guide on what to look out for during checks.
The activities are part of the Out of the Box: Removing the Risk of Wildlife Smuggling from Malaysia's International Mail Service project, which is funded by the United States Department of State, Bureau of International Narcotics and Law Enforcement Affairs (INL). It is carried out by TRAFFIC with the support of Pos Malaysia Berhad.
The project is focused on the PMIH, which is a critical logistics hub based at the Kuala Lumpur International Airport that handled 1,825 tonnes of outbound shipment (international mail and parcel) in 2020.
It was conceived to increase coordination between the country's main postal services provider, Pos Malaysia, and regulatory agencies, as well as improve interdiction of wildlife products trafficked through international mail in Malaysia.
Pos Malaysia Berhad affirms that the logistics industry serves as the primary conduit for international trade and illegal wildlife trafficking is a persistent crisis that affects many global key players within the industry. To deter the spread of such illegal activities, it is necessary for all industry players to establish stronger cooperation and have greater understanding of the issue to identify and stop smuggling attempts at all transit points.
PMIH has seen a number of cases of wildlife in international mail, the most significant involving a seizure of 13 boxes of pangolin scales in November 2017 destined for Hong Kong, and the discovery of 50 pieces of rhino horn at a postal aviation centre in Kuala Lumpur International Airport in 2018 that were headed for Viet Nam. Both seizures were made by the Royal Malaysian Customs.
"We are very encouraged by Pos Malaysia's response to these efforts to sensitize key personnel to this issue. Staff involved in the processing and handling of parcels who are aware of this issue are also more informed on how to detect and report incidences of wildlife smuggling," said Yee.
TRAFFIC will continue its work with Pos Malaysia under the Out of the Box: Removing the Risk of Wildlife Smuggling from Malaysia's International Mail Service project, focusing on its operations in Sabah and Sarawak. This phase will also see work with other logistics providers that handle international and domestic mail/parcels throughout the country.

---
Notes:
About the Pos Malaysia Group

        
The Pos Malaysia Group is a dynamic postal (mail, retail, courier, and international), logistics, aviation, financial and supply chain solutions provider with the largest delivery and touchpoint network in Malaysia, offering an extensive retail network experience through its core business segments. With a track record of over 200 years, the Group connects the nation with over 200 postal operators globally and extended its capability to support Southeast Asia's rapidly expanding cross-border eCommerce businesses. For information on the Pos Malaysia Group, visit www.pos.com.my.
About the

Out of the Box project
This project was funded by a grant from the United States Department of State. The opinions, findings and conclusions stated herein are those of the authors and do not necessarily reflect those of the United States Department of State
---