Forest authorities in Latin America discuss initiatives to control illegal timber
Guatemala City, 7th June 2010—Forest authorities from eleven countries in Latin America, many of them major timber exporters, met on May 23rd in Guatemala to discuss market control initiatives to prevent illegal timber harvesting and trade in the region. The event on "International Timber Trade and Forest Governance" was hosted by TRAFFIC South America, in collaboration with the European Forest Institute (EFI) and was held in conjunction with the 26th session of United Nations' Food and Agriculture Organization Commission on Forestry in Latin America (COFLAC).
---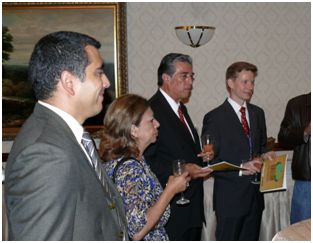 Latin America is a major exporter of wood products, exporting over US$ 20 billion worth wood, pulp and paper overseas, more than half of which is destined for the European Union and the United States. The event was attended by representatives from Brazil, Colombia, Guatemala, Guyana, Uruguay, Chile, Dominican Republic, Nicaragua, Mexico, Cuba and Ecuador. These countries together export more than 85% of the timber originating from Latin America or almost to 95% of timber exports to the European Union from that region.
 Participants discussed the design and impact of the US Lacey Act and EU FLEGT (Forest Law Enforcement, Governance and Trade) Action Plan and its elements, such as voluntary partnership agreements with producing countries to verify the legality of their timber exports.
 Under the auspices of the EU FLEGT Facility, EFI is in the process of informing current or potential exporters of timber to the EU from Latin American countries of the FLEGT Action Plan. The Action Plan aims to reduce the amount of illegal timber imported to the EU, while making a relevant contribution to the efforts of the timber exporting countries to protect their remaining forest resources by improved forest governance. The EU FLEGT Facility provides information and support in technical and formal aspects in the negotiations between the EU and the interested countries.
 The host country of the COFLAC meeting, Guatemala, reported on solutions to improve forest governance. With nearly US$ 200 million in timber exports in 2008, the country is a leading timber and paper exporter in Central America. The representative of Colombia explained the national pact for legal timber which involves a broad variety of stakeholders, and initialises coordinated actions to reduce the volume of illegal timber on the national market.
 TRAFFIC presented details on the operating mechanisms of the US Lacey Act which prohibits trade in illegally-sourced timber products, wherever it originates from, and establishes penalties for importers who fail to comply. TRAFFIC South America is supporting initiatives that are aimed at improving forest governance such as the EU FLEGT Action plan and the US Lacey Act, and is working to create greater awareness among governments and other stakeholders in Latin America of efforts such as these.
---