Farmers' Association created to support green supply chains for TCM ingredients
Lishui, Zhejiang, China, 1st April 2015—A Farmers' Association has been created to oversee sustainable supply of Solomon's Seal "Rhizoma Polygonati" for the traditional Chinese medicine (TCM) industry. Rhizoma Polygonati is a traditional Chinese herb, famed for its anti-fatigue powers. 
---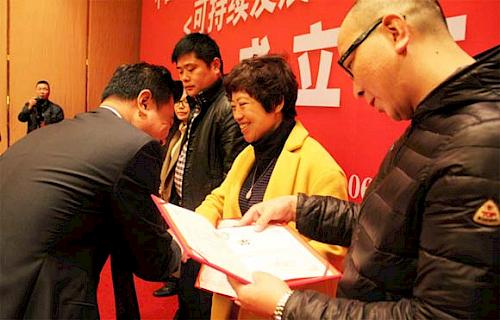 The Association brings together medicinal plant collectors, growers, community co-operatives and companies in the vicinity of Lishui city. 
The Association's development and growth will be supported through the China Medical Pharmaceutical Material Association (CMPMA), a key partner in the European Union (EU) funded Engaging China's Private Sector in Sustainable Management of Medicinal Plants project (EGP-MAP) managed by TRAFFIC, which promotes sustainable harvesting and green supply chains for wild-harvested medicinal plants.
The Farmers' Association will act as platform for dialogue between government agencies and those involved in TCM harvesting and production. 
The harvesting and marketing of Rhizoma Polygonati was chosen as an example of how green supply chains could be developed, from harvesting to product distribution via sourcing, trading and manufacturing and involving EGP-MAP partners, including farmers, co-operatives, companies and industry partners. 
Representatives from the TCM Administration and officials from the Environment Protection Bureau, Lishui Forestry Bureau, Agriculture Bureau, and Lishui Civil Affairs Bureau attended the ceremony where the Farmers' Association was formally established. 
The President of Wecome Pharmaceuticals and the Secretary-General of the CMPMA spoke at the ceremony about their efforts to enshrine corporate social responsibility (CSR) within the TCM industry. 
The nominated chair of the newly created Farmers' Association announced the guidelines under which it will operate: these have been built around FairWild principles of sustainable sourcing and equitable benefit sharing. Representatives from Lishui Forestry Research Institute, Lishui Agricultural Research Institute, and Nanjing TCM University will provide technical support on adopting good agricultural practices and following organic and FairWild Standards. 
Liao Zhongkai, the first Chair of the Farmers' Association said: "This Farmers' Association will use modern information networks to find business opportunities for ethnic products, spread the fair trade concept in China, and focus on protection of wild TCM plant resources and biodiversity conservation."
Zhou Fei, Head of TRAFFIC's China Office said: "TRAFFIC has been encouraging government agencies, the private sector and farmers to establish sustainable supply chains and we trust this latest initiative will bring positive impacts for the TCM industry here in Lishui."

This communication has been produced with the financial assistance of the European Union. The contents of this communication are the sole responsibility of TRAFFIC and can under no circumstances be regarded as reflecting the position of the European Union.
---