FairWild Standard recognized by Fair Trade Resource Network
Cambridge, UK, 13th November 2012–FairWild producers, traders and manufacturers will now be able to participate in programmes of the Fair Trade Resource Network (FTRN), an information hub designed to grow the fair trade movement worldwide. 
---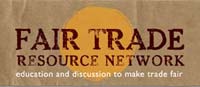 The move comes after FTRN formally recognized FairWild as one of several acceptable recognition schemes for fair trade initiatives. 
It means FTRN can share news, accept sponsors, and partner in all FTRN programmes with all FairWild's business, certifier and producer organizations and is expected to raise awareness about FairWild, especially in the US, where FTRN is most active.
TRAFFIC is a partner of FairWild and helped in development of the FairWild Standard, which aims to ensure those collecting wild plant ingredients harvest the produce sustainably and receive a premium price for their efforts. 
Jeff Goldman, Executive Director, FTRN said "FTRN educates people about recognition schemes for fair trade products and organizations. The fair trade movement can learn much from the innovative FairWild Standard and certification scheme, which encompasses social and environmental criteria."
"We are glad to welcome FairWild producers, traders and manufacturers and consumers into programs and sponsorships of the Fair Trade Resource Network, and to help spread the word about fair and sustainable trade in wild plants," said Goldman.
The US plays an important role in global trade in medicinal and aromatic plants, being the top global importer (by volume and value) of pharmaceutical products and ingredients alone. Demand is driven by a range of industries, from food-flavouring, cosmetics, fragrances and pharmaceuticals, to industrial solvent manufacturers.
Crawford Allan, TRAFFIC's Director in North America, said "The production of certain botanicals relies on wild-collection, where unmonitored trade may lead to unsustainable exploitation of wild plant populations, putting them at risk.
"Fair and sustainable trade certified against the FairWild Standard plays an essential role in the conservation of wild species and helps local people to protect nature."
The first products containing FairWild-certified ingredients were launched on the market in the US and Canada in 2009.
Josef Brinckmann, VP Sustainability, Traditional Medicinals Inc., said "Traditional Medicinals will now send FairWild product news to FTRN for promotion through their website, emails and social media. We look forward to the increased visibility of FairWild, and hope this leads to higher levels of awareness among US consumers about the importance of sustainable and fair trade in wild plant ingredients."
Kerry Hughes, Director of the Institute for Market Ecology (IMO) USA, also sees the US as an important growth area for FairWild. "US companies are increasingly taking up social responsibility and fair trade issues. Although the level of awareness about wild harvested ingredients and the conservation and fair trade issues involved is generally low, we are seeing increasing industry concern about this, and are proud to offer FairWild certification as a solution to their sourcing concerns."
Founded in 1999, FTRN is the only non-profit organization focused exclusively on fair trade education, helping people to understand better the impact of their buying decisions. One of the FTRN flagship events is the annual World Fair Trade Day. 
Read more about the FairWild Standard and TRAFFIC's Medicinal and Aromatic Plants Programme.
Adapted article reposted with permission from www.fairwild.org/news
---