FairWild Foundation at Biofach 2010
Nuremberg, Germany, 16th February 2010—The FairWild Foundation is attending Biofach 2010, the World Organic Trade Fair, taking place from 17–20 February in Nuremberg, Germany.
---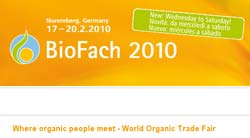 "The FairWild Foundation can look back on a successful first year of operations in 2009," says Bert-Jan Ottens, Chair of FairWild's Communication and Marketing Committee. 
"Several enterprises have been certified and are now selling FairWild certified ingredients to the market, and the FairWild standard has been further harmonized for practical field application." 
More companies are joining FairWild in its efforts for fair and sustainable sourcing of wild-collected natural ingredients, and partnerships have been established for implementation through international, governmental and non-governmental organizations. 
At Biofach 2010, FairWild will present its achievements, products and partners, and will establish new contacts for the promotion of FairWild natural ingredients.
TRAFFIC is represented on the FairWild Board of Trustees and strongly supports the development of the new FairWild Standard. 
The Standard is helping create a global framework for implementing a sustainable, fair and value-added management and trading system for wild-collected natural plant products, in compliance with the Convention on Biological Diversity (CBD).
"You are welcome to visit us at our stand in Hall 5, Stand 5-200C, and discuss possible ways in which we can assist you in the pursuit of fair, ecological and organic certification!," adds Ottens.
For more information, please contact: Bert-Jan Ottens on: +31(6) 53879196 (m) or visit http://www.fairwild.org
---