Experts formulate pangolin conservation plan
Singapore, 24th June 2013—Pangolin experts meet this week in Singapore to devise an overarching conservation strategy for pangolins worldwide. 
---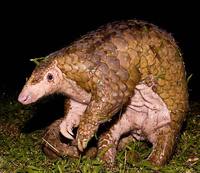 Pangolins, or scaly anteaters are found in Africa and Asia, and are in high demand both for their meat and for their scales, used in traditional medicine. 
All eight pangolin species are protected under national and international laws, and two are listed as Endangered on the IUCN Red List of Threatened Species.
No international trade in the four pangolin species found in Asia is permitted through their zero quota allocation under the Convention on International Trade in Endangered Species of Wild Fauna and Flora (CITES). 
Collectively, pangolins are one of the most trafficked mammals in Asia and increasingly, in Africa. Globally, thousands are illegally traded each year, primarily to China and Viet Nam. 
The International Union for the Conservation of Nature Species Survival Commission (IUCN-SSC) Pangolin Specialist Group has teamed up with Wildlife Reserves Singapore (WRS) to organize this first ever global conference on pangolin conservation. 
Representatives from TRAFFIC will address delegates to the meeting about the pangolin trade. 
Professor Jonathan Baillie, Conservation Programmes Director at the Zoological Society of London and Co-Chair of the IUCN-SSC Pangolin Specialist Group said: 
"This is a landmark event in pangolin conservation, we will have 50 researchers from around the world gathered to set a road-map for conserving pangolins over the next decade. Especially important here is formulating ways to reduce demand for pangolins in Asia."
Themed "Scaling up pangolin conservation" the four-day event runs until 27th June and is co-organised, hosted and sponsored by Wildlife Reserves Singapore and the Wildlife Reserves Singapore Conservation Fund (WRSCF). 
A free public seminar on pangolin conservation will be held on 28th June from 12.30pm – 4pm at the Forest Lodge in Singapore Zoo. Speakers will include Dr Chris Shepherd, Acting Regional Director for TRAFFIC in South-East Asia, Professor Jonathan Baillie, Dan Challender, Co-Chair of the IUCN-SSC Pangolin Specialist Group and Razak Jaffar, Assistant Curator, Night Safari, Wildlife Reserves Singapore. 
---