EU plan to save sharks needs more teeth
Brussels, Belgium, 5th February 2009—The European Commission today announced a new Action Plan to protect sharks in European waters, which has been broadly welcomed by WWF, the global conservation organization, and TRAFFIC, the wildlife trade monitoring network of WWF and IUCN.
---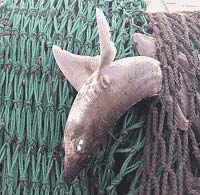 The plan includes provisions for more observers of trawlers, prohibitions on discarding most sharks as by-catch, a tighter prohibition on shark finning and catch limits for sharks in line with advice from fisheries management organizations.
However, the plan needs rapid implementation and strengthened actions such as mandatory recording of catch data if it is to be effective in arresting a rapid decline in shark populations in European waters, where roughly one third of the shark species are already threatened with extinction, according to the International Union for Conservation of Nature (IUCN).
"The commitment to shark conservation is to be commended, although TRAFFIC and WWF are deeply concerned that some of the measures will not be implemented for considerable periods," said Steven Broad, Director of TRAFFIC. 
Although the Plan calls for countries to collect information on sharks caught, this will be on a voluntary basis. 
Obtaining sound data on the numbers and species of sharks caught is considered an urgent and essential measure for international shark conservation efforts. 
"Although we fully support the adoption and speedy implementation of the plan, we believe it contains major gaps that do not take a sufficiently precautionary approach to shark conservation, as recommended by the United Nations and others," said Dr Susan Lieberman, WWF International's Species Programme Director. 
"Many of these species are already threatened with extinction. WWF and TRAFFIC are dismayed that the plan lacks a solid commitment to seek mandatory collection of data on shark catch—a critical element if the EU is to succeed in the conservation of these species," Dr Lieberman added. 
TRAFFIC and WWF also called on the EU to allocate adequate resources to ensure the Plan can be properly implemented, and for the Council and the European Parliament to adopt the plan without diluting the proposed measures or extending the period of implementation.
Additional measures proposed in the Plan of Action include provision for increased onboard observer coverage on vessels, prohibition of discarding most sharks as by-catch, establishing catch limits for sharks in line with advice from fisheries management organizations, tighter prohibition on shark finning, and engagement to encourage the wider adoption of EU standards, for example through implementation of the UN's International Plan of Action for sharks (IPOA-Sharks). 
Sharks are targeted by UK, French, Spanish and Portuguese fishermen; shark tails and meat are used to prepare "caldeirada" or "Schillerlocken" and shark meat is served in restaurants across Europe, and in the UK in traditional fish-and-chip shops. 
In December 2008, European Fisheries ministers agreed to reduce total allowable quotas and committed to a zero catch for certain deep water sharks by 2010. 
However, TRAFFIC and WWF believe that the acceptable bycatch in these regulations is still too high, and although shark finning has already been prohibited in EU and adjacent waters, control and enforcement of this ban is currently too lax. 
Sharks are slow growing and produce relatively small numbers of young.
---