EU closes shark finning loophole
Brussels, Belgium, 23rd November 2012—Members of the European Parliament this week voted overwhelmingly in favour of making it a requirement for EU fishing vessels only to land sharks with their fins still attached. 
---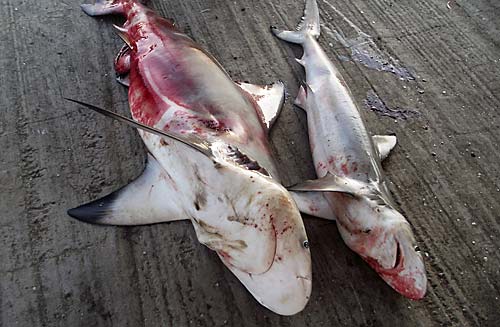 Landing whole sharks effectively prevents the wasteful practice of de-finning sharks at sea and dumping the less valuable bodies into the ocean. The fins are mainly destined for markets in Asia, especially Hong Kong, where shark fin soup is considered a delicacy. 
Currently European Union vessels catch 15%—approximately one in seven—sharks caught world-wide, making it the largest single catcher of sharks. Indonesia, with just over 13% is the largest individual shark catching nation. 
Other countries, including Costa Rica and Australia, have previously introduced measures for sharks to be landed with fins attached. Two of Europe's top shark catching nations, Spain and Portugal, had vigorously opposed introduction of requirement to land sharks with fins attached by EU vessels. 
"As experience elsewhere demonstrates, the sky hasn't fallen in on national fishing industries because of the requirement to land sharks with their fins attached," said Glenn Sant, TRAFFIC's Fisheries Trade Programme Leader.
Sant points out that landing whole sharks means identification will be more straightforward, enabling accurate data collection on the numbers of each species being caught, with obvious benefits for management of shark populations. 
"Prohibiting at-sea removal of shark fins will significantly increase compliance with shark fishing regulations: it makes sense from enforcement, fisheries management and conservation perspectives." 
Landing whole sharks also has the effect of reducing the number of sharks that can be caught in a single fishing trip, because fins alone take up a lot less cargo hold space than whole shark bodies. 
In the lead up to the vote, a number of non-governmental organizations, including TRAFFIC, had written to the European Commission, urging them to adopt the "fins-attached" measures.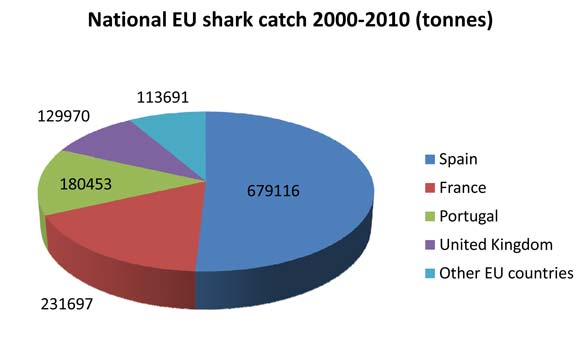 During the vote, there were 566 votes in favour of the new measures, 47 against and 16 abstentions. 
The European Parliament's final report now goes to the EU Council of Ministers and Commission as part of the process to finalize the regulation. Conservation groups stressed that finning bans alone are insufficient to save sharks.
"Responsible shark fisheries management requires strong finning bans along with science-based catch limits, particularly when it relates to the largest catcher of sharks world-wide," said Sant. 
"TRAFFIC encourages the EU to finalize this amended finning regulation and ensure it is incorporated within all fisheries agreements world-wide that have EU participation."
---