Engaging local communities in conserving a threatened forest landscape
Kuala Lumpur, Malaysia, 22nd November 2017—TRAFFIC geared up its engagement with local communities near a critically important forest for wildlife conservation by running programmes for local eco-tourism operators and schools.
---
A day-long workshop was held for 85 local eco-tourism operators in Gerik, a large town close to the Belum-Temengor Forest Complex in Peninsular Malaysia—a prominent biodiversity hub and nature holiday destination. 
Jointly organized by TRAFFIC and WWF-Malaysia, the programme saw members of the Temengor Lake Tour Operators Association updated on the latest research by various Malaysian conservation groups as well as on the threats facing local endangered species, such as the Critically Endangered Malayan Tiger, elephants and others. 
Participants also heard from government agencies about initiatives to protect the 130 million-year-old forest complex and combat the threats it faces.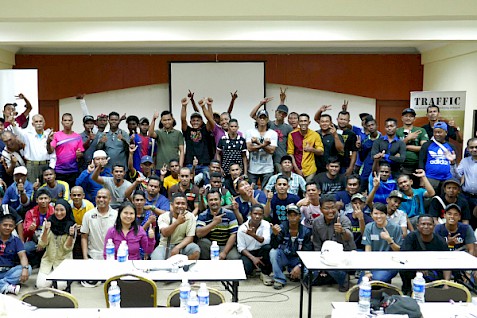 The workshop, which included representatives from local indigenous communities, was designed to create greater awareness about the areas unique biodiversity and instill a sense of ownership concerning efforts to protect it. 
The forest complex, which is also one of 55 Important Bird Areas[1] in the country, supports Malaysia's highest density of wild Tigers and is widely promoted as an eco-tourism location despite being also heavily threatened by poaching and illegal trade. 
The major focus of TRAFFIC's efforts in the area have so far involved the training and capacity building of law enforcement officers within the forest complex. This workshop represented TRAFFIC's first initiative to engage with local tourism industry stakeholders. 
The workshop provided an avenue for open discussion and learning for those working in the industry as well as a platform for local conservationists to highlight their findings.
Key issues and challenges highlighted by tour operators during the workshop in practicing sustainable eco-tourism are due to be presented to relevant government agencies.
"It's clear that the tour operators have both the motivation and the interest to protect the landscape and its wildlife from destruction. They can be the eyes and ears for wildlife and know that it will not only benefit the environment, but their business as well," said Kanitha Krishnasamy, Acting Regional Director for TRAFFIC in Southeast Asia.
TRAFFIC staff and volunteers continued local engagement efforts later in the week with a day-long wildlife awareness and appreciation programme for 143 students in two schools aged between nine and 12.
The schools were chosen for their proximity to forested areas known to be hunting and poaching hotspots. The communities are known for their hunting traditions, collection of non-timber forest produce and also for teaching children how to hunt and set snares from an early age.
TRAFFIC's annual school outreach programme in the Hulu Perak district, where Gerik is located, began in in 2013, and has since reached over 900 students. 
Through games and other interactive learning processes, children are taught the importance of the forest and wildlife, the significance of the area they live in and the critical role can they play in conserving wildlife and fighting wildlife crime.
 
---
* Important Bird and Biodiversity Areas (IBAs) are places of international significance for the conservation of birds and other biodiversity identified by BirdLife and its partners.
---