Discovery of snared Sun Bear indicative of relentless poaching in Belum-Temengor Forest Complex, Malaysia
Perak, Malaysia, 28th January 2014—The carcass of a Malayan Sun Bear and several snares have been found in jungles near the Belum-Temengor Forest Complex in northern Malaysia, underscoring poaching's incessant pressure on endangered species in the area.
---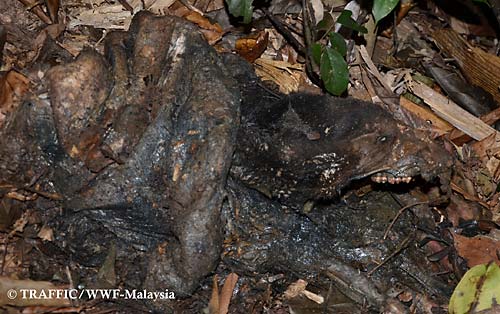 On Thursday a WWF-Malaysia researcher stumbled upon the rotting Sun Bear carcass and four snares close by after checking the jungle trail close to the Gerik-Jeli Highway, from which several men on motorcycles had been seen emerging earlier.
WWF-Malaysia and TRAFFIC reported the matter to authorities for further investigation and action. 
This is the third discovery involving Sun Bears in recent years in the area. Four weeks ago, researchers found another Sun Bear in a snare just 250 metres off the Gerik-Jeli highway and it was freed in a two-hour operation by Perhilitan. In 2011, a camera trap in the area captured the image of a Sun Bear without a forelimb, likely lost to a snare. 
Bordering Thailand in northern Peninsular Malaysia, the Belum-Temengor Forest Complex (BTFC) is a global Tiger Conservation Landscape and one of three Tiger Priority Landscapes in the country; a vast area some four times the size of Singapore. 
Home to Malaysia's megafauna, BTFC is under immense pressure from illegal poaching and trade of Tigers, pangolins, Sun Bears and others.
From 2008 to 2010, 142 snares were discovered and de-activated in the BTFC by a WWF-Malaysia wildlife monitoring unit working with authorities. 
In the same period TRAFFIC recorded the loss of over 400 animals including Tigers; one of which was famously rescued after several days in a snare in 2009, but later died from its injuries. WWF-Malaysia and TRAFFIC have continued to make such finds in the area including one case in August 2011 involving a dozen snares targeted at large mammals.
The most recent discovery is clear proof that the poaching and illegal wildlife trade in the BTFC has not abated and demands a stronger, more consistent and better co-ordinated response from all authorities in the area.
"A snare does not discriminate in its choice of victim. This time it was a sun bear. Next, it could be a tiger. This does not bode well for BTFC which is one of three priority sites for tigers in Malaysia. It is why we strongly advocate for a National Tiger Task Force that will ensure better coordinated enforcement nationwide. If no urgency is shown in this matter, we will soon have empty forests," said WWF-Malaysia's Executive Director/CEO, Dato' Dr Dionysius Sharma.
"Poaching for trade is clearly a chronic threat to Malaysia's wildlife. BTFC's wildlife is being lost from right under the noses of the authorities. Poachers are gaining easy access to the forests along highways, with little risk of detection," said TRAFFIC's Regional Director in South-East Asia, Dr Chris R. Shepherd.
"The effectiveness of the Belum-Temengor Joint Enforcement Task Force, set-up in 2010 to tackle poaching and trafficking here, has been questionable. More frequent joint enforcement patrols alone could have an impact on the poaching rate, yet these have not been put in place. We urge the Perak Chief Minister and other State officials to step up patrols and other measures to address the problem," said Shepherd.
---