CITES meeting in the spotlight
Cambridge, UK, 28 May 2007—The latest issue of info TRAFFIC, the French language wildlife trade newsletter, has a special focus on the forthcoming CITES meeting in The Hague, from 3–15 June.
---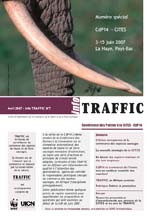 Topics covered include key issues such as elephants and ivory trade, timber, fisheries and the CITES strategic vision.
There is also a table illustrating TRAFFIC's position on each of the 36 proposals to amend the CITES Appendices.
Info TRAFFIC is distributed in French-speaking African countries, and is aimed primarily at CITES Management and Scientific Authorities, Environment Ministers, police and customs officers, veterinary inspectors, and others involved in managing the wildlife trade.
So why not download your copy of info TRAFFIC and TRAFFIC's full recommendations in French right now?
Spécial CITES CdP14
Info TRAFFIC, la lettre d'information en français sur le commerce des espèces sauvages, consacre son dernier numéro à la Conférence des Parties à la CITES, qui se tiendra du 3 au 15 juin prochain.
Les sujets abordés comprennent notamment des enjeux essentiels tels que l'éléphant et le commerce de l'ivoire, les bois tropicaux, les pêcheries et la vision stratégique de la CITES.
TRAFFIC a également résumé, en un tableau, sa position sur chacune des 36 propositions d'amendements aux annexes de la CITES.  
Info TRAFFIC est distribué gratuitement dans les pays d'Afrique francophone. Il est destiné prioritairement aux organes de gestion et autorités scientifiques CITES, aux  ministres de l'environnement, aux policiers, douaniers, inspecteurs-vétérinaires et à  tous ceux qui sont impliqués dans la gestion du commerce des espèces sauvages.
Téléchargez votre info TRAFFIC spécial CdP14 et la position de TRAFFIC de www.traffic.org
---