CITES: Conservation Bite for Sawfish—WWF/TRAFFIC
The Hague, The Netherlands, 11 June 2007—Trade restrictions have been approved for sawfish—large rays related to sharks, with distinctive toothed snouts. 
---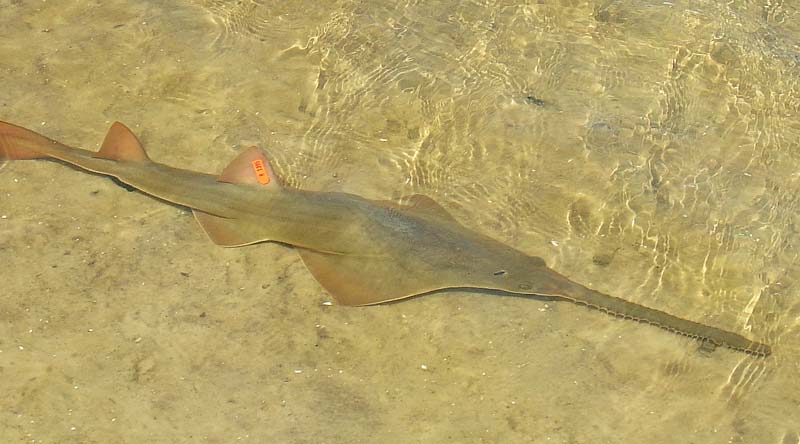 The UN wildlife trade convention approved all seven sawfish species in Appendix I banning all international commercial trade except for one species found in Australia which was included in Appendix II (but only to allow trade in live animals to public aquaria for conservation purposes only).
Sawfish are traded for their fins, meat, unique toothed rostra (snouts), and as live animals for exhibition.
Their distinctive saw-like snouts are sold as souvenirs, curios, and ceremonial weapons, while other body parts such as skin, liver oil and bile are used in traditional medicines. 
"We are relieved that international trade pressure will be lifted for these critically endangered species," said Steven Broad, Director, TRAFFIC. "Trade, along with fishing pressure, was pushing them towards extinction."
Although population facts and figures for sawfish are scarce, and there are very few sightings, evidence is good that they are all Critically Endangered. 
CITES Parties defeated proposals last week to list two shark species in CITES Appendix II that would have allowed international trade, but required stricter regulation to ensure trade is sustainable.
 "The sawfish have disappeared from waters stretching from the east coast of the U.S. to Southeast Asia," said Dr. Susan Lieberman, Director of WWF's Global Species Programme. "This is a positive action today but it is a pity that the CITES Parties are only able to throw a lifeline to shark species when they are on the brink of extinction". 
The CITES Conference is being held until 15th June. 
---