China reflects upon UNGA resolution against illicit wildlife crime
Beijing, China, 25th September 2015—Representatives from Chinese government agencies, associations and foreign embassies today attended a workshop in Beijing organized by WWF and TRAFFIC to reflect upon the recent United Nations General Assembly (UNGA) resolution on "Tackling Illicit Trafficking in Wildlife". 
---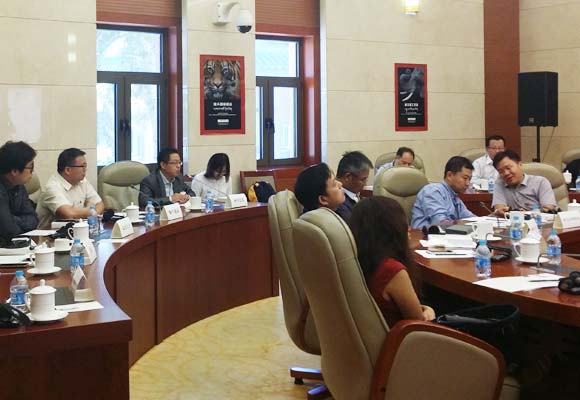 The UN resolution, adopted on 30th July this year, marks an extraordinary milestone in the global fight against wildlife crime. Co-sponsored by 86 countries including China and adopted by all 193 UN member states, the resolution reflects an unprecedented level of support from the global community for concrete actions to curb this serious transnational organized crime.
The historic resolution also represents a unique opportunity for countries to take concrete actions to reduce demand for threatened wildlife products by "using targeted strategies in order to influence consumer behaviour". 
Representatives at the special workshop, which was co-sponsored by the United Nations Association of China, discussed a series of measures to fulfil China's commitments under the resolution, including enactment of the national strategy for wildlife conservation in the 13th Five-year Plan, amendment of the Wildlife Conservation Law, prohibition of the transport and delivery of illegal wildlife products, steps to combat the illegal online trade, improvements to international and inter-agency law enforcement collaboration, and efforts to reduce demand for illegal wildlife products. 
"As a responsible country, China has done a lot to curb wildlife crime and played a key role in the adoption of this historic resolution: it is now down to all UN member states to take action to implement it," said Lo Sze Ping, CEO of WWF China. "WWF and TRAFFIC look forward to the rapid and effective application of this resolution, and stand ready to assist where possible in its successful implementation."
"TRAFFIC has been monitoring the global illegal wildlife trade for many years and helping formulate solutions to reduce the demand for illegal wildlife products. If called upon, we would be more than willing to assist the Chinese government to achieve these shared objectives," said Zhou Fei, Head of TRAFFIC's China office.
Over recent years, there has been a surge in illegal trade in wildlife, including elephants, rhinos, tigers and some precious timber species – increasingly orchestrated by organized criminal syndicates. In Africa, up to 30,000 elephants are killed each year for their ivory tusks, while a record 1,215 rhinos were poached for their horns in South Africa last year. In Asian range states, parts of at least 1,590 tigers were seized between 2000 and April 2014. 
---
Notes:
WWF and TRAFFIC launched the Wildlife Crime Initiative in 2014 following their joint Illegal Wildlife Trade campaign, which was launched in 2012 and generated unprecedented momentum and high-level political will. 

The UNGA resolution builds on a series of major international declarations on illegal wildlife trade, including the 2013 Paris Declaration, the 2014 London Declaration, the 2015 Kasane Statement and the 2015 Brazzaville Declaration.

The event has been supported by the Dutch Ministry for Economic Affairs and by GIZ, on behalf of and financed by the German Federal Ministry for Economic Cooperation and Development (BMZ).
---