China calls for increased Tiger conservation efforts
Beijing, China, 27th January 2010—The State Forestry Administration (SFA) of China has issued a Directive calling for increased protection of wild Tigers through natural habitat management, stronger law enforcement action against illegal trade in Tiger parts and products, stricter regulation of captive breeding regulations and enhanced public awareness campaigns. 
---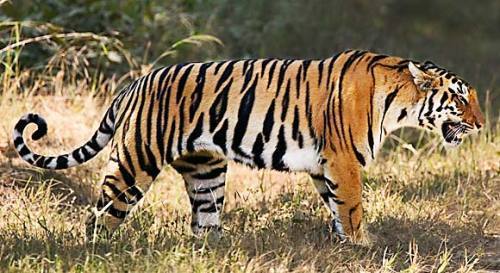 The Directive was issued earlier this month, ahead of a key meeting currently underway in Thailand between environment ministers from 13 Asian countries where senior government representatives from Bangladesh, Bhutan, Cambodia, China, India, Indonesia, Laos, Malaysia, Myanmar, Nepal, Russia, Thailand and Vietnam are exploring ways to double the number of wild Tigers within a decade.
The SFA Directive includes a mandate to crackdown on illegal smuggling and trade in Tiger parts and products, specifically asking local forestry bureaus in China to collaborate with other law enforcement agencies to increase monitoring and undertake enforcement measures against such trade. 
Poaching of Tigers across Asia coupled with habitat loss has led to a dramatic decline in global Tiger numbers in the wild—from around 100,000 animals a Century ago to approximately 3,200 today. Currently, China has only around 20 wild Amur Tigers. 
Although domestic trade in Tiger parts has been illegal in China since 1993, demand for parts, such as Tiger bone for tonic wines and skins for clothing and display, still exists. 
In 2008, TRAFFIC's market surveys in Gansu and Ningxia provinces found the illicit trade in Tiger products had decreased, but had not been eliminated. 
The Directive calls for promoting public awareness to reduce consumption of Tiger parts and a public rejection of illegal trade, and suggests encouraging and motivating people to report wildlife crime to the authorities. At the same time, officials who repeatedly ignore public complaints about illegal trade will be held responsible. 
The Directive also calls for increased monitoring and management of Tiger captive breeding facilities through creation of a database to track all Tigers births and deaths in such facilities and the secure storage of stockpiles of Tiger bodies and parts. Those facilities without storage capabilities will have to destroy their stockpiles under the supervision of local authorities, and each operation will be required to demonstrate it has met the appropriate conditions before it will be issued with a permit to open up for public viewing. 
Another measure called for includes improved protection of Tigers and their prey in the wild, achieved through a combination of research, monitoring, anti-poaching and alleviating human-tiger conflict. 
The Directive was published on 4 January 2010 on the SFA website and circulated by official media outlets including Xinhua News Agency and China.org. 
The Chinese Year of the Tiger, which begins on 14 February, is widely viewed as a critical one for securing the future of Asia's flagship mammal species. 
"TRAFFIC welcomes the measures proposed by the State Forestry Administration ahead of the Year of the Tiger, which is make or break time for wild Tigers," said Professor Xu Hongfa, Head of TRAFFIC's China team.
"2010 will determine if the Tiger's future burns bright or continues to fade away." 
---