Cameroon raids seize a tonne of bushmeat
Yaoundé, Cameroon, 7th May 2009—Enforcement authorities in southeast Cameroon last week seized more than 1,000 kg of illegal bush meat and guns, and arrested 15 wildlife poachers in an unprecedented operation.
---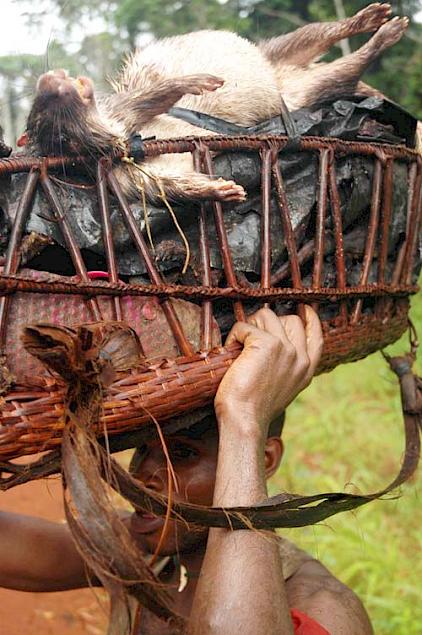 A combined unit of soldiers, police and game rangers uncovered more than a tonne of bushmeat, including the remains of protected species: gorillas, chimpanzees and elephants. They also confiscated more than 30 guns from suspected poachers, including high calibre rifles and illegally owned weapons.
"The illicit bushmeat trade is often the most serious long-term threat to great ape populations," commented Germain Ngandjui, Senior Programme Officer for TRAFFIC in Central Africa. 
"The Cameroonian authorities are to be congratulated on these anti-poaching efforts, which will help protect the nation's severely threatened wildlife." 
Among those arrested was a municipal councilor suspected of being involved in elephant poaching. Three notorious elephant poachers, a Central African, a Congolese and a Cameroonian were arrested around Boumba Bek and Lobeke National Parks. 
"The Ministry of Forestry and Wildlife deserves praises in taking this bold step to check what had become a rampant and uncontrolled destruction of species by a few individuals to the detriment of the local population", said Natasha K. Quist, Regional Representative for WWF in Central Africa. 
"However, the success of this operation should be measured by the effectiveness of the judicial process brought against the suspects. We must avoid a situation whereby the same people who have been arrested are back in the forest the very next day to continue with illegal activities", she noted.
The operation was carried out in targeted villages with the help of local traditional rulers and local people. The teams also carried out in-forest and maritime patrols during which two elephant tusks, three elephant tails and great ape parts were confiscated.
TRAFFIC has recently stepped up its efforts to address the illegal trade of protected wildlife species in Cameroon through the opening of a Central Africa regional office with dedicated staff in Yaoundé and through investigating the overall impacts of the bushmeat trade on biodiversty, including Great Apes and elephants.
---