Burgeoning Africa-China wildlife trade focus at IUCN Congress side event
Jeju, South Korea, 21st September 2012—the rapid growth in trade in wildlife commodities traded between Africa and China was the focus of a Knowledge Cafe side event hosted by TRAFFIC at last week's IUCN World Conservation Congress.
---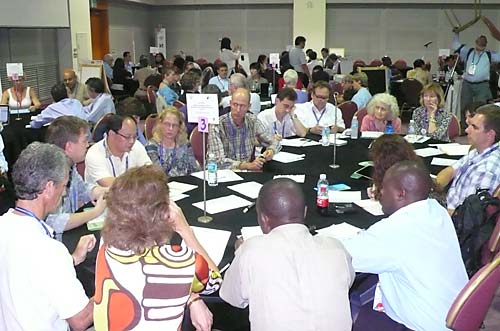 In recent years there have been huge investments made by China into Africa in the form of private sector investment, government and development aid, as well as the hundreds of thousands of Chinese workers who are now employed in Africa working on mining, forestry, infrastructure projects etc.
One outcome of large scale investment in the continent has been the massive growth in trade between Africa and China in many commodities, including wildlife products. Associated with the increased trade are a number of issues of concern. 
Several key elements were identified by event participants that need to be addressed and it was agreed that a parallel approach to tackling them, rather than individually, was needed for significant impact to be made. 
The priorities identified included governance—in particular legislative gaps, adequate deterrents and effective law enforcement, also economic incentives and disincentives, and political will at the highest level. 
Other priorities highlighted included the need for technical and other resources, filling of information gaps, identifying points of intervention along trade chains, the management of communications and messaging and demand reduction for illegal wildlife products and influencing individual responsibility towards utilizing wildlife commodities. 
TRAFFIC is approaching this overall set of challenges under a broad framework of reducing the threats while enhancing the benefits of wildlife trade flows between Africa and China, including through engagement in bodies such as FOCAC, COMIFAC, CFBP and SADC as well as supporting individual African governments in enhancing the visibility of wildlife trade sustainability as part of bilateral engagements with China and Chinese companies. 
Some practical steps that need to be taken were also discussed, ranging from targeted inspections of outgoing shipments from Africa ports through to awareness raising initiatives in both source and destination countries. 
"An holistic approach to addressing the highly complex issues surrounding the growing trade in wildlife goods from Africa to China is needed, balancing species conservation concerns and best practice wildlife trade management with sustainable economic development," said James Compton, Director of TRAFFIC's Asia-Pacific Programme. 
---