Bangkok a hub in recent tortoise trafficking incidents
Bangkok, Thailand, 28th February 2014—Over a period of two weeks, authorities in Thailand, India and Hong Kong have intercepted three significant shipments of rare tortoises and freshwater turtles—all of them destined for or transiting Bangkok in Thailand—and rescued more than a thousand animals from smugglers.
---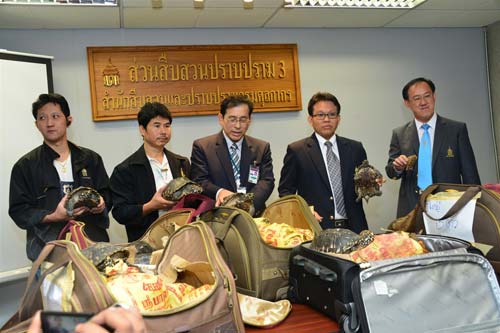 On 31st January, Thai Customs and wildlife checkpoint officers at Don Mueang International Airport seized 521 tortoises from five unclaimed bags onboard a flight from Chennai, India. Among the tortoises were 440 of the often-smuggled Indian Star Tortoises Geochelone elegans, as well as 65 Indian Black Pond Turtles Geoclemys hamiltonii.
Indian Star Tortoises continue to be smuggled in high volumes for the exotic pet industry, despite being afforded legal protection across the species's range countries of India, Sri Lanka and Pakistan. All three countries have banned all international commercial export of the species under national legislation.
 
In a separate incident, on 11th February 2014, the Hong Kong Agriculture, Fisheries and Conservation Department (AFCD) intercepted 233 tortoises and chameleons from a Malagasy passenger. The suspect, who flew from Madagascar and transited in Bangkok, was carrying 127 Radiated Tortoises Astrochelys radiata, 10 Ploughshare Tortoises Astrochelys yniphora and 96 chameleons Brookesia sp in his luggage.  
Eleven tortoises and 22 chameleons perished in the smuggling attempt. The remainder of the confiscated animals are currently being cared for by the Kadoorie Farm and Botanic Garden (KFBG). The suspect has been arrested and if convicted faces a maximum penalty of HK$5 million (US$645,000) in fines and two years' imprisonment under Hong Kong's Protection of Endangered Species of Animals and Plants Ordinance.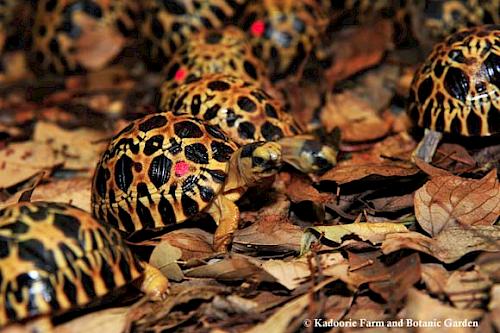 These Critically Endangered Malagasy tortoises are particularly threatened by the exotic pet trade. International trade of these species is prohibited through their listing in Appendix I of the Convention on International Trade in Endangered Species of Wild Fauna and Flora (CITES). This seizure brings the total number of Malagasy tortoises seized in Asia in the past three months to 199. 
A day later, on 12th February, six men were arrested in Chennai for attempting to smuggle another 420 Indian Star Tortoises on a flight to Bangkok. The men roused the suspicion of Customs officials when odd-shaped features showed up during a scan of their baggage. Further checks revealed that the young tortoises were packed inside sealed pouches. The men are currently being investigated and face prosecution.  
"The massive scale of tortoise and freshwater turtle smuggling has dire conservation implications as large numbers are poached from the wild to supply the exotic pet trade," said Dr Chris R. Shepherd, TRAFFIC's Regional Director in South-East Asia.
"TRAFFIC congratulates the authorities in all three cases for successfully intercepting these shipments. 
"Bangkok has been previously been identified as a significant transit or destination point in the smuggling route for highly threatened and illegal wildlife. 
"While increased vigilance shown by these authorities is commendable, we urge improved cross-country collaboration to identify the perpetrators facilitating illegal trade at such volumes by exploiting airport facilities, and to put them out of business once and for all."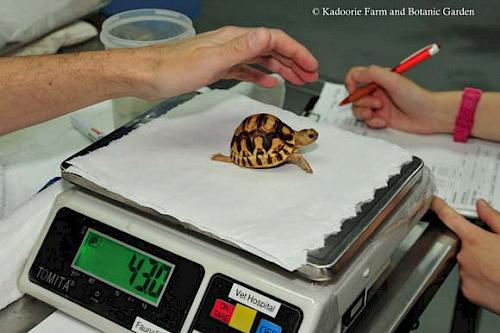 ---