Anti-smuggling focus on wildlife crime enhanced in China's Guangxi Province
Guangxi, China, 3rd June 2013—Wildlife law enforcement agencies in Guangxi Province met last month to review their efforts to crack-down on smuggling of endangered wildlife in 2012, as well as to align their collaboration in 2013. 
---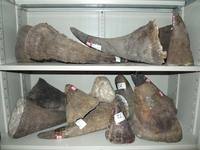 Supported by TRAFFIC, the meeting brought together all members of Guangxi Provincial Inter-agency CITES Enforcement Coordination Group (PICE-CG), which was established in June 2012. 
Guangxi Province borders Viet Nam and from October to December 2012, a joint operation targeting cross-border smuggling and illegal trade in endangered species was carried by the Guangxi PICE-CG member agencies. The two-month action led to a total of 112 wildlife seizures and the arrest of 114 suspects. 
Over 17,300 wild animals including pangolins, hawksbill turtles, monitor lizards and crocodiles were confiscated while wildlife products such as 2,242 items of ivory and rhino horns were also seized. More than 3,000 items of hunting equipment, including guns, were confiscated.
"The wild animal seized in the last two months of 2012 account for 52 per cent of the seizures in the whole year, which strongly indicates the success of the joint law enforcement between agencies," said Dr Xianlin Meng, the Deputy Executive Director of China's CITES Management Authority.
Representatives from key agencies, namely Forest Police, Border Police and Industry & Commerce Department shared their experience on enforcement at the meeting, and awards were presented to eight enforcement units and 20 individuals, who greatly contributed to the wildlife crime crack-down action in 2012. 
China's National Inter-agency CITES Enforcement Coordination Group (NICE-CG) sent a letter to the meeting to complement the joint enforcement actions led by the PICE-CG and Provincial Anti-smuggling Office in Guangxi in the past two years.
"The joint effort among agencies pioneered the practice of how a provincial level government can strengthen its law enforcement to comply with the requirements of an international Convention," the letter stated, with reference to the Convention on International Trade in Endangered Species of Wild Fauna and Flora (CITES).
"The efforts in Guangxi are a positive indicator or China's efforts to link its NICE-CG with neighbouring countries in South-East Asia," said Dr Jianbin Shi, Head of TRAFFIC's China programme. 
"Last year's meeting between China and the ASEAN Wildlife Enforcement Network has established a national platform under which Guangxi's PICE-CG is playing a key role in protecting China's biodiversity as well as combating transboundary trade with South-East Asia."
Bordering Viet Nam, Guangxi Province is the focal point of the China-ASEAN economy activities and also the main passageway for smuggling wildlife from South-East Asian countries to China. In January 2013, the biggest rhino horn seizure in China since 1993 took place when three suspects, including a Vietnamese national, were caught smuggling 14 rhino horns, one tiger skin, a tiger skeleton and 55.53 kg of ivory.
The meeting concluded with some guidelines for the next steps of wildlife law enforcement work in Guangxi, prioritizing the crack-down on smuggling, keeping the best practice of inter-agency co-operation, strengthening public communication to reduce demand on illegal wildlife products and building capacity. 
"Long-term efforts are needed to address wildlife smuggling in Guangxi effectively," said Dr Shi. 
"TRAFFIC has been proud to help strengthen such efforts to improve enforcement effectiveness and efficiency of relevant enforcement agencies in Guangxi."
TRAFFIC held a side meeting with the full array of local enforcement forces to detail the following steps of collaboration and at the same time to facilitate the idea exchanges between the border police, Industry and Commerce Bureau, forest police, anti-smuggling office and CITES-MA Branch Office in Nanning.
Agencies all agree that closer co-operation is needed in all aspects, from anti-smuggling to market monitoring, from arrest to prosecution. Communication to the public asking them not to consume illegal wildlife products is also recognized by most agencies to be an essential component in their work moving forward. Some of the agencies came up with innovative ideas, for instance, the Guangxi border police force has strictly forbidden its policemen/women and their family members from buying any wildlife products, and the Industry and Commerce Bureau encourages the public to report illegal wildlife trade through its hotline 12315, which is normally used for reporting scams.
"The efforts in Guangxi to become a provincial leader in wildlife law enforcement are commendable and provide opportunities to replicate success in China and with its neighbours to combat wildlife crime," said James Compton, TRAFFIC's Senior Programme Director for Asia. 
"Only through the targeted efforts at source, transit and consumption points can the illegal trade chain be broken."
In the past three years, TRAFFIC has been supporting the inter-agency law enforcement efforts at national and provincial level, with a focus on Guangxi and Yunnan with the generous support of WWF Germany.
---