2 tonnes of pangolins seized in Indonesia
Jakarta, Indonesia, 18th July 2011—Customs officers at Jakarta's Sukarno-Hatta Airport seized 1,732 kg of pangolin meat and a further 380 kg of pangolin scales on 10th July. 
---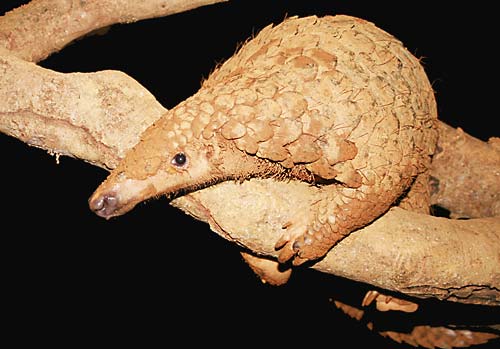 The de-scaled pangolins were packed in boxes labelled as fresh fish and destined for Singapore. 
One suspect was arrested and if convicted faces a possible five years in prison. 
The seizure is the latest in a number of foiled attempts to smuggle pangolins out of Indonesia. In May this year 7.5 tonnes of pangolins and 65 kg of scales were seized at the country's biggest port in Jakarta, en route to Viet Nam. 
Pangolins in Asia are protected species in all their range states and international trade is currently not permitted under CITES (Convention on International Trade in Endangered Species of Wild Fauna and Flora). 
"While the Indonesian authorities should be congratulated for making this seizure, it is just one of a number of similar incidents recently in the region, highlighting the ongoing illicit trade" says Dan Challender, a researcher at the University of Kent's Durrell Institute of Conservation and Ecology (DICE) who is studying trade in Asian pangolins in co-operation with TRAFFIC. 
According to Challender, in 2011 seizures of pangolins and their derivatives have been reported in Cambodia, India, Malaysia, Nepal, Thailand and Viet Nam. 
"Rapacious demand for pangolins in East Asia, in particular from China and Viet Nam, where the animals are both consumed and used in traditional medicine practices, is fuelling the trade and driving pangolins towards extinction," says Chris R. Shepherd, Deputy Regional Director of TRAFFIC Southeast Asia. 
"Enforcement efforts nationally, regionally and internationally must be improved if we are to reduce the smuggling of pangolins and save these iconic animals."
Pangolin smuggling reported in Viet Nam: On 22nd July 2011, Viet Nam News reported that around 410 kg of pangolin scales had been seized from a ferry on the Ca Long River in northern Quang Ninh Province's Mong Cai City the previous week, according to the provincial Department of Customs.
---