Sharing behaviour change techniques to tackle illegal CITES-listed wildlife trade in Latin America and Caribbean
Lima, Peru - The upcoming 19th Conference of the Parties to CITES (CITES CoP19) has put the spotlight on the trade of many species endemic to Latin America and the Caribbean (LAC) – the region highlighted as having 'the greatest regional decline in average species population abundance' according to WWF's Living planet report 2022.
---
Demand for illegal wildlife products is amongst the leading causes of species' decline across the LAC region. To complement the TRAFFIC-led production of the draft CITES Guidance on Demand Reduction Strategies for Illegal Wildlife Trade, TRAFFIC staff provided training at an event last month in Lima, Peru, in behaviour change techniques to support Parties in the LAC region to reduce such consumer demand.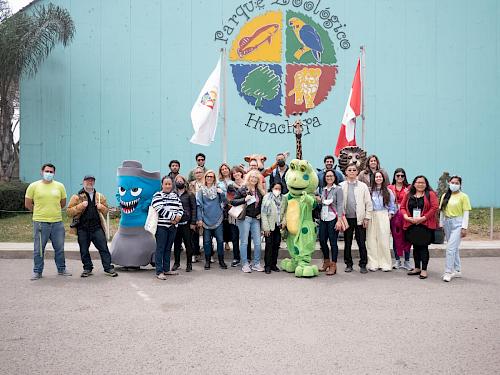 Demand reduction as a tool to combat wildlife crime has not often been used across South America, but the five-step approach in the CITES Guidance is a simple roadmap to changing consumer behaviour and can be used alongside other tools, such as law enforcement and supporting livelihoods."
Sarah Ferguson, TRAFFIC Conservation Crime Convergence Coordinator
(attended the event)Demand for illegally sourced wildlife and its products is driven by several different factors. The Guidance aims to support CITES Parties in implementing targeted demand reduction strategies through a range of behaviour change techniques that can address the multiple motivations behind this demand.
For example, the illegal consumption of the Titicaca Water Frog for its perceived medicinal value has led to its decline to Endangered levels. The workshop participants visited a breeding centre to learn about successful community conservation and demand reduction efforts.
Trade in illegal wildlife products affects many species across the LAC region:
parrots

jaguars

totoaba fish

marine turtles

tortoises

pelagic sharks

lesser-known species of flora and fauna, including the Titicaca Water Frog
These and other species may be consumed as status symbols, such as jewellery or collectors' items, while others are purchased as pets or for food, medicine, furniture, or fashion.  Messages aimed at reducing consumer demand must be specific and culturally focused via consumer-relevant platforms.
Workshop participants identified the value of demand reduction campaigns: when consumer demand is reduced, poaching will also decrease. As one workshop participant noted, "when a crime has been committed, then the animal has already died," so it is crucial to stop the demand before the crime occurs.
TRAFFIC strongly believes that the use of behavioural change techniques will be vital in helping to finally shift consumer choice and reduce the threat of illegal trade and direct overexploitation of wild species."
Gayle Burgess, TRAFFIC Behaviour Change Programme Leader
The Guidance proposes a Five Step process and 10 Benchmarks for Behaviour Change to support all those interested in using such techniques. During the draft document review process, regional workshops were recommended to help provide context-specific information and national examples.
---
Read how TRAFFIC are working with CITES on Demand Reduction.
More information about TRAFFIC's work on Wildlife Trade Behaviour Change, including a Wildlife Consumer Toolkit.
---
Notes:
Last month's two-day event was generously hosted by the Peruvian Management Authority, SERFOR, and funded by the UK Government through DEFRA.
Workshop attendees included:  
12 Members from CITES Management Authorities from across Central and South America and the Caribbean region

CITES Secretariat

WWF

WCS

Panthera
---
About Defra

The Department for Environment, Food & Rural Affairs (Defra) is the UK government department responsible for safeguarding our natural environment, supporting our world-leading food and farming industry, and sustaining a thriving rural economy. Our broad remit means we play a major role in people's day-to-day life, from the food we eat, and the air we breathe, to the water we drink.