Introducing marine species information boards in Kenya and Tanzania: getting locals on board with artisanal fishing regulations
In response to concerns over unsustainable and illegal catch and trade in East African nearshore fisheries, TRAFFIC has launched information boards to raise awareness of prohibited species among fishers and traders and aid compliance officers in identifying threatened marine species. 
---
The information boards, an output of the ReTTA1 project through support from WWF Kenya, have been  placed at strategic landing sites in Kenya and Tanzania. They include a wide range of taxa, including turtles, dolphins, whales, sharks, molluscs, corals, and other marine species, all of which are protected by national law. In addition, trade in a number of the species is restricted internationally by CITES2.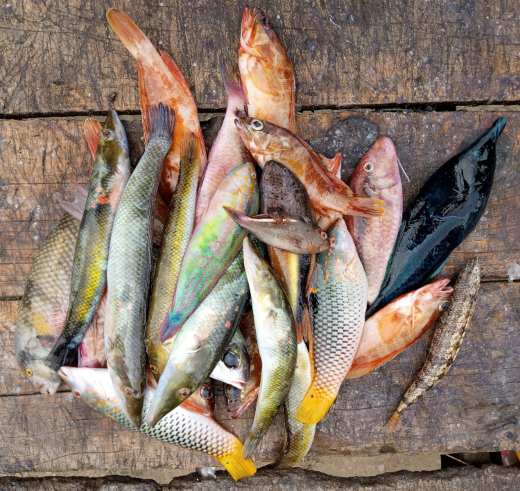 As well as listing the species that fishers are banned from catching, the info boards detail the fishing methods, and gear that are prohibited in each country (such as spearguns, monofilament nets and electrification) and the minimum permitted mesh size of fishing nets. Making such regulations clearly visible at each landing site will provide compliance officers with the capacity to regulate fishing gear. The text on the info boards is in both Swahili and English, and local fish names have been used to make the boards fully accessible to stakeholders. 
Managing wildlife from overexploitation goes beyond just legislation; laws must be understood by those concerned and effectively upheld by law enforcement. These new info boards will help officials identify species that have been caught illegally, as well as inform fishers of what they are not allowed to catch."
Camilla Floros, Project Leader - ReTTA  
Earlier in 2022, TRAFFIC counted 489 different marine species for sale at artisanal fish markets – an incredible diversity – prompting concern over indiscriminate fishing methods. Nationally protected species were also on offer, including the Humphead Wrasse Cheilinus undulatus listed as Endangered and Bowmouth Guitarfish Rhina ancylostoma listed as Critically Endangered on the IUCN Red List of Threatened Species™. 
A 2020 TRAFFIC report, Nearshore Fisheries Along the Coasts of Kenya and Tanzania (available upon request), found that inadequate enforcement of fishing laws in Kenya and Tanzania is largely down to insufficient funding, lack of compliance capacity and knowledge of protected marine species.
Responses from local stakeholders: 
These boards remind every fisherman to fish by following the laws. They are important because if we fish randomly, we will wipe out all the fishes and then suffer absence of fishes in the ocean."
Sadi Juma, a fisher from Tanga. 
I am so delighted with these info boards from TRAFFIC – this is a great support to the government of Tanzania as they are very handy in exercising our enforcement job. The info boards are indeed going to be very useful in quickly identifying protected species and referencing the laws. They are a very helpful tool in raising awareness among local fishing stakeholders on the species and gear that are prohibited. We don't expect lack of awareness excuses any more from fishers and traders."
Jacob Nalaila, Officer in charge, Fisheries Division Tanga Region, Ministry of Livestock and Fisheries.   
These boards are very clear; I like the fact that they are also in local language. They are going to increase awareness of our people, so as to manage their behaviour and protect the species for sustainable use."
Hamisi Abdallah Hamis, Chairman BMU-Buyuni fish landing site. 
If you would like a full resolution copy of the boards, please contact

Enable JavaScript to view protected content.

.
---
Notes:
The majority of the imagery on the info boards was generously donated by Sida/WIOMSA3, while select images were produced by scientists at the South African Institute for Aquatic Biodiversity (SAIAB) and the Department of Forestry, Fisheries and the Environment (DFFE).
2020 TRAFFIC report, Nearshore Fisheries Along the Coasts of Kenya and Tanzania is available on request. Please contact Camilla Floros directly (Enable JavaScript to view protected content.)  
Reducing Trade Threats to Africa's wild species and ecosystems 
the Convention on International Trade in Endangered Species of Wild Fauna and Flora

Richmond, M.D. (ed) 2011 A Field Guide to the Seashores of Eastern Africa and the Western Indian Ocean Islands. Sida/WIOMSA. 464 pp.
---
About ReTTA

ReTTA is a TRAFFIC project aiming to Reduce Trade Threats to Africa's Wild Species and Ecosystems. The project is funded by Arcadia—a charitable fund of Lisbet Rausing and Peter Baldwin.
About Arcadia

Arcadia is a charitable foundation that works to protect nature, preserve cultural heritage and promote open access to knowledge. Since 2002 Arcadia has awarded more than $1 billion to organizations around the world.
About WWF-Kenya

World Wide Fund for Nature-Kenya (WWF-Kenya) is a locally registered non-governmental conservation organization; an affiliate of WWF International. WWF has been working in Kenya since 1962 alongside the government, civil society, private sector organizations and local communities to contribute towards providing an enabling environment for the achievement of sustainable natural resource management.
WWF

WWF is an independent conservation organization, with over 30 million supporters and a global network active in over 100 countries. WWF's mission is to stop the degradation of the Earth's natural environment and to build a future in which humans live in harmony with nature, by conserving the world's biological diversity, ensuring that the use of renewable natural resources is sustainable, and promoting the reduction of pollution and wasteful consumption. Visit www.panda.org/news for the latest news and media resources and follow us on Twitter @WWF_media.