Encouraging sustainable sourcing of wildlife products in Vietnamese traditional medicines and food supplements
Animal and plant products have been used in traditional medicines for time immemorial. However, the consequences of ever-increasing consumer demands are putting unsustainable pressure on wild species populations worldwide. The Vietnam Chamber of Commerce and Industry (VCCI) and TRAFFIC are encouraging the country's pharmaceutical and functional food sectors to play their part in protecting wildlife species around the globe.
---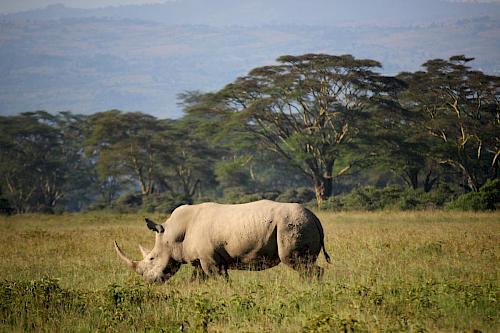 On average, at peak levels in 2015, three African rhinos were poached every day1 to satisfy consumer demand for their horn, many heading to East and Southeast Asia. Under The Convention on International Trade in Endangered Species of Wild Fauna and Flora (CITES), all international trade in rhino horn has been illegal since 1977; however, countries like Vietnam have not explicitly banned medicines containing rhino horn. 
An online workshop, delivered by the VCCI, the Vietnam Association of Natural Products Sciences (VNPS), the Vietnam Association of Functional Foods (VAFF) and TRAFFIC to the pharmaceuticals and food industry stressed the plight facing rhinos and other vulnerable animal and plant species still used in traditional medicines and supplements.
Pharmaceutical and functional food businesses need to urgently incorporate wildlife protection policies as part of their corporate social responsibility (CSR) plans in order to ensure any wildlife products they are using are not detrimental to the survival of species or the conservation of nature."
Trinh Nguyen, TRAFFIC Director of the Vietnam Office
She continued, "Food and pharmaceutical sectors can significantly impact consumer decisions, which in turn could support global conservation efforts. These sectors can encourage traditional medicine practitioners to prescribe sustainable and traceable alternatives rather than products that contain illegal and unsustainable wildlife ingredients, such as rhino horn."
We want to encourage companies to be conscious of the impact they are having on all aspects of society, including economic, social, and environmental, especially when consumers are now willing to pay more for sustainable products."
Le Thi Thu Thuy, Deputy Director of Enterprise Development Foundation, VCCI.
By hosting this workshop with the VCCI, VNPS, the VAFF, we hope the 100 delegates from government departments, private enterprises and the media, can become essential drivers in combating illegal wildlife trade within the industry and encourage environmental and economic sustainability within the sector.
Working with closely VCCI, TRAFFIC experts will continue to guide on how to combat the illegal trade CITES-listed animal and plant species, advise on how to monitor the trade entering the country effectively and recommend how to change consumer behaviour. By incorporating the suggested communications into their CSR plans and ensuring wildlife products in traditional medicines are not detrimental species or habitats, the pharmaceutical and food sector could be instrumental in Vietnam's fight against wildlife crime and support the conservation of species across the globe.
With assistance from TRAFFIC experts, VCCI and VAFF aim to create a forum for pharmaceutical and functional foods sectors to exchange solutions for sustainable development.
---
Notes:
The workshop is part of an ongoing project from TRAFFIC and WWF Deutschland (WWF Germany) directed at eradicating rhino horn prescription and consumption in traditional medicine in Viet Nam. 
---
About VCCI
The Vietnam Chamber of Commerce and Industry (VCCI) is an organization that represents and protects legitimate benefits of business communities. VCCI has a network of branches, representing offices and members nationwide.
WWF

WWF is an independent conservation organization, with over 30 million supporters and a global network active in over 100 countries. WWF's mission is to stop the degradation of the Earth's natural environment and to build a future in which humans live in harmony with nature, by conserving the world's biological diversity, ensuring that the use of renewable natural resources is sustainable, and promoting the reduction of pollution and wasteful consumption. Visit www.panda.org/news for the latest news and media resources and follow us on Twitter @WWF_media.