TRAFFIC projects support Chinese timber trade reforms at World Hardwood Conference
Beijing, China, 21st Dec 2021 – TRAFFIC's multifaceted and collaborative approach to tackling the unsustainable and illegal trade in timber supply chains was welcomed by companies at the 4th World Hardwood Conference; however, there is still a pressing need for transformative actions to achieve greater traceability, sustainability and a 'green industry.'
---
China is the largest importer of timber, including tropical hardwood and the world's biggest consumer market for timber products. However, the country has not yet developed international forestry policies regulating the trade from supplier countries to the border of China and relies solely on the Convention on International Trade in Endangered Wild Fauna and Flora (CITES) rules. As a result, the timber industry has advocated for more significant incentives and collaboration with source countries to ensure their suppliers meet domestic national trade policies.
The purpose of the 4th World Hardwood Conference is to make good use of trade, promote the development of wood processing industry in hardwood sourcing countries and improve the living standards of local people by advocating sustainable hardwood trade."
Mr Li Jiafeng, President of the China Timber and Wood Products Distribution Association (CTWPDA)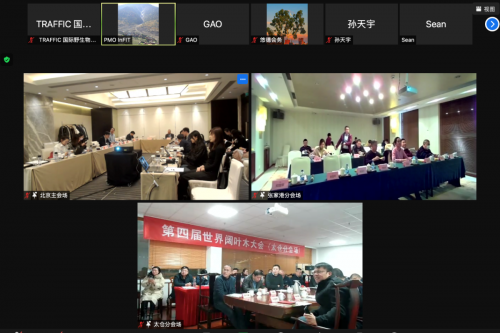 Experts from the National Development and Reform Commission of China (NDRC), China Academy of Forestry (CAF), National Forestry and Grassland Administration (NFGA), and TRAFFIC came together with China's hardwood timber companies to review the efforts made during the pandemic and explore new opportunities to promote a sustainable timber supply chain.
Mr Gao Feiyi, Director of Postdoctoral Management, International Cooperation Center, NDRC, a governmental representative and a scholar, signalled to the timber companies that "green" industry transformation is a positive and proactive change.
He suggested the move towards legal and traceable behaviours in the industry will benefit from the guidance provided by the CTWPDA's Code of Conduct, Code of Practices in Responsible Sourcing, Corporate social responsibility initiatives. Alongside this, Legality and Sustainability advisories have been produced under the TRAFFIC and CTWPDA's long term joint effort. They will play important roles to help the industry to meet the international timber governance challenges.
With CBD COP15 and UNFCCC COP27 on the horizon, it was highlighted that the sustainable procurement of legal timber projects by TRAFFIC and supported by NORAD NICFI could help to reduce greenhouse gas emissions from deforestation and forest degradation in source countries.
In his speech, Mr Luo Xinping, General Manager of China Forestry Materials Co. Ltd., said, "Green development and emission reduction have become the central theme of China's development, which gives a new mission to hardwood timber industry development. Driven by the carbon neutralisation strategy of China, the green and low-carbon transformation of China's economy are new challenges and opportunities for the hardwood industry."
Mr Elisio Benedito Jamine, Deputy head of the African Union (AU) delegation to China, highlighted that supported by TRAFFIC, there has been greater cooperation through FOCAC and AU's '2063 Agenda'.
In today's world, sustainable development centred on green and poverty reduction have become the main theme of global development. Africa exports about 4 million cubic metres of logs to China every year. In recent years, China-Africa industrial cooperation has continued to deepen, and it has shown a trend of increased added value from the export of raw materials to the export of preliminarily processed products."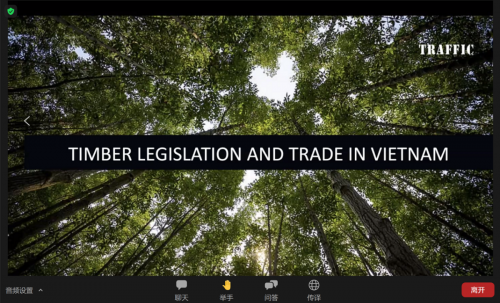 Mr Elisio Benedito Jamine, Deputy head of the African Union (AU) delegation to ChinaAnother significant source and transit country for China's timber industry are Viet Nam. CHEN Hin Keong, Senior Advisor, Forest Governance and Trade of TRAFFIC, and Linh Nguyen, Programme Officer of TRAFFIC Viet Nam, jointly presented the latest updates on the timber industry, resource, and policy in Viet Nam. They emphasised the importance of full compliance with the laws, regulations, and international conventions, such as CITES, and other international measures as part of the supply chain governance challenges.
"This was the first exchange between China and Viet Nam's timber industries. Over the next five years, we will create more chances to share sustainable timber market information, conduct training on timber legality verification, as well as upgrade and share Code of Conducts for mutual learning under the NORAD project framework," said Ms Ling XU, Director of TRAFFIC China.
In 2022, supported by NICFI, TRAFFIC will continuously work with CTWPDA, CAF, and China Customs to deliver training, technology supports (i.e. wood species identification) and promote green public procurement audit to facilitate Chinese timber companies to improve their management and traceability. TRAFFIC and CTWPDA expect to establish a legal, transparent, and secure timber supply chain for China, Southeast Asian countries, and Central African countries while preparing for the market rebound after the pandemic situation improves.
---
Notes:
i CTWPDA's Code of Practices co-developed with TRAFFIC, funded by the United Kingdom's Department for International Development (DFID) in the past phase from 2018 to 2021. The new integration work is planned in the latest phase of TRAFFIC's timber project funded Norwegian Agency for Development Cooperation (NORAD) Norway's International Climate and Forest Initiative (NICFI) from 2021 to 2026.
ii The second part of the 15th meeting to the Conference of the Parties to the Convention on Biological Diversity will be held in Kunming China in Summer 2022.
iii The 27th meeting to the Conference of the Parties to the United Nations Climate Change Conference will be held in Egypt in November 2022.
Cameroon and Congo National Handbooks of Overseas Chinese Forestry Enterprises Guidelines jointly developed by TRAFFIC and CAF, which has completed the draft versions and will be officially released in 2022
---
About Norway's International Climate and Forest Initiative (NICFI):
NICFI supports efforts to reduce greenhouse gas emissions resulting from deforestation and forest degradation in developing countries through efforts to improve forest and land management in tropical forest countries and reduce the pressure on tropical forests from global markets.
About CTWPDA

China Timber & Wood Products Distribution Association (CTWPDA), established in 1985 upon the approval of the Ministry of Civil Affairs, is a non-profit organization voluntarily joined by enterprises and institutions engaged in the timber and wood products (including bamboo and bamboo products) processing and distribution industry. For 30 years, it has been working toward bridging the communication between private sector and policy making agencies, protecting interests of members, promoting good practices and building a good reputation of the Chinese timber and wood products industry.