Tiger resolution sets new paradigm for conservation
New Delhi, India, 14th April 2016: The 3rd Asia Ministerial Conference on Tiger Conservation concluded today with Tiger countries adopting the New Delhi Resolution on Tiger Conservation. The Resolution aligns Tiger conservation and economic development, inspired by the inaugural speech of the Honourable Prime Minister of India, Narendra Modi, who spoke of the need to see Tiger landscapes as "natural capital".
---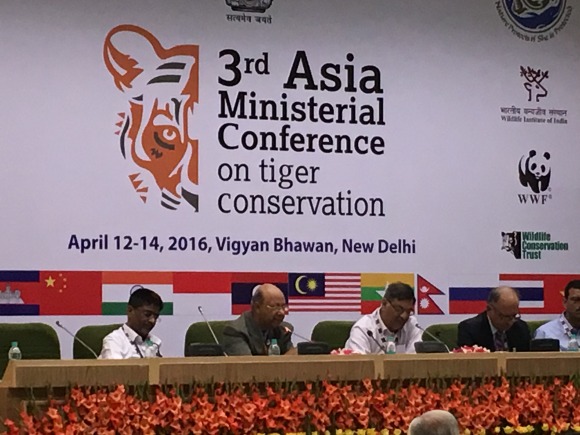 Guided by the Honourable Prime Minister's speech, this resolution is a positive game changer for conservation," said Mr Ravi Singh, Secretary General and CEO, WWF-India. "Framing development policies and programmes with a conservation lens can lead to a win-win situation for Tigers and people."
The 13 Tiger Range Countries (TRCs) committed to:  
accelerate implementation of the Global and National Tiger Recovery Programmes; 
align economic development and Tiger conservation;   
leverage global and national funding and technical support; 
recognize the value of Tiger habitats for ecosystem services and climate change; 
emphasise recovery of Tiger populations in areas with low Tiger densities; 
strengthen co-operation at the highest levels of government; and
increase knowledge-sharing and use of technology including smart tools.
I am happy with the commitment shown by the 13 Tiger Range Countries," said Dr Rajesh Gopal, Secretary General, Global Tiger Forum. "We look forward to working together in the new paradigm to double wild Tiger numbers with renewed energy and resources."
The Minister for Environment, Forest & Climate Change for India, the Honourable Prakash Javadekar, presided over the closing ceremony and spoke of the need for sustained efforts and mutual co-operation amongst Tiger range countries.
The Resolution, which sets the pathway for the next six years of the Tx2 goal to double wild Tiger numbers by 2022, builds on the former commitments of Tiger range countries in Hua Hin, St Petersburg, Thimphu and Dhaka. It also recognizes the Global Tiger Forum and the Global Tiger Initiative Council as the co-ordinating bodies for the Tx2 goal over the next six years, formally taking over from the role previously held by the Global Tiger Initiative. 
The Conference opened with news that global wild Tiger numbers had increased for the first time from 3200 in 2010 to 3890. This updated minimum figure, compiled from IUCN data and the latest national Tiger surveys, can be attributed to multiple factors including increases in Tiger populations in India, Russia, Nepal and Bhutan, improved surveys and enhanced protection. 
Concurrent with the encouraging increases in Tiger populations, persistent threats to wild Tigers from poaching, trafficking and consumer demand were highlighted to the conference by TRAFFIC, the wildlife trade monitoring network.  A draft analysis showed that there had been at least 300 Tigers seized in various locations across the TRCs in the four-year period 2011-2015.
These trafficking routes and trade hotspots are priority targets for inter-agency law enforcement effort. Dismantling the organised criminal activity requires all 13 TRCs to take concerted and co-ordinated action
James Compton, TRAFFIC's Senior Director for AsiaInvestigations remain essential to move seizures into successful cases for prosecution and penalties in order to combat illicit activity impacting Tigers, he added.
"In addition, strong government policy and law enforcement deterrents will provide the enabling environment for behaviour change efforts to reduce consumer demand for Tigers and Tiger products."
The National Tiger Conservation Authority (NTCA) hosted this conference on behalf of the Government of India, in collaboration with the Global Tiger Forum (GTF), WWF and other partners.
---
Notes:
Former Tx2 commitments: 
Hua Hin Declaration on Tiger Conservation (2010) 
The St Petersburg Declaration on Tiger Conservation (2010) 
The Thimphu Agenda (2012) 
The Dhaka Recommendations (2014)
---