Sign for tigers
New Delhi, India, 19 July 2007—TRAFFIC, WWF-India and other members of the International Tiger Coalition today launched a signature campaign to draw attention to the plight of Tigers, and to help stop the trade in Tiger parts and products from all sources.
---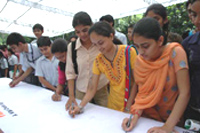 Ravi Singh, Secretary-General of WWF-India commented: "It is now or never for the Indian Tiger. Clearly [the Indian] Government needs to be as effective towards on-the-ground measures as it has been in lobbying at the global platform to save the Tiger and its habitat.
"People too must spread the word and do their bit to save the tiger."
A 36 square metre Tiger photo mosaic, created from 20,000 portraits sent to the International Tiger Coalition by people from more than 150 countries worldwide, was also unveiled as part of the campaign. Previously, the mosaic had been displayed at the recent Convention on International Trade in Endangered Species of Wild Fauna and Flora (CITES) meeting in The Hague, Netherlands. India was one of the top 10 contributors to the mosaic.
"We hope this campaign will go a long way in spreading awareness about the importance of tiger conservation," said Samir Sinha, Head of TRAFFIC India.
Hundreds of schoolchildren were present and signed the petition at the launch, as were frontline field staff form Tiger Reserves and members of the International Tiger Coalition.
---