TRAFFIC and SACEP signal intention to manage wildlife trade in South Asia
Cambridge, UK, 22 July 2007—The South Asian Co-operative Environment Programme (SACEP) has signed a Memorandum of Understanding with TRAFFIC, to enlist the wildlife trade network's assistance in building a regional network for ensuring the sustainability of legal wildlife trade and for tackling wildlife crime in South Asia.
---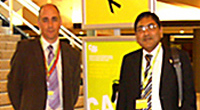 The South Asian network will be modelled on the highly successful ASEAN Wildlife Enforcement Network (ASEAN-WEN), an inter-governmental initiative which has brought 10 Southeast Asia governments together to combat wildlife crime. TRAFFIC is continuing to work with Wildlife Alliance (formerly known as WildAid), via a cooperative partnership with USAID, to provide technical assistance to government agencies that are implementing ASEAN-WEN.
"TRAFFIC was instrumental in helping establish the ASEAN Wildlife Enforcement Network in Southeast Asia, and we're delighted to be able to call upon their assistance for building a similar network in South Asia," said Dr Arvind Boaz, Director General of SACEP.
SACEP Governing Council has decided in favour of a regional work programme to combat wildlife crime, to strengthen enforcement of CITES (the Convention on Endangered Species of Wild Fauna and Flora) and ensure the sustainability of wildlife trade in the region. SACEP has also announced plans to become part of CAWT, the US Government-led Coalition Against Wildlife Trafficking.
South Asia becomes the latest region to announce the formation of a network for co-operation between member state authorities to manage wildlife trade and tackle wildlife crime: in June, the European Union (EU) unveiled an Action Plan to tackle wildlife crime within the EU and to offer support to countries outside the region.
"TRAFFIC is delighted to be working with SACEP on this important initiative in the South Asia region," said Steven Broad, Executive Director of TRAFFIC.
"It's gratifying to see the success of ASEAN-WEN leading to similar inter-governmental initiatives elsewhere in Asia. It's a model we hope will be adapted to fit regional contexts worldwide."
---