China Customs announces seizure of almost 8 tonnes ivory
Beijing, China, 15thApril 2019—The General Administration of China Customs (GACC) today announced the seizure of 7.48 tonnes of elephant ivory—potentially the second biggest ivory seizure worldwide since detailed records were first compiled in 1989.
---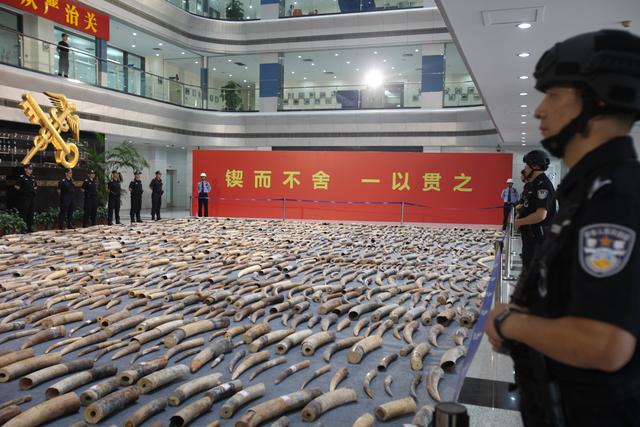 The seizure was made by the Huangpu Branch of China Customs in Guangdong Province and took place on 30th March, just five days after Viet Nam reported the seizure of 9.12 tonnes of ivory in Tien Sa Port in Da Nang. Both seizures, if officially confirmed, are larger than the 7.12 tonnes of ivory seized in Singapore in 2002, currently the biggest on record.
Speaking at a press conference held to announce the seizure, Hu Wei, Deputy Director General of China Customs and Director of the National Anti-Smuggling Office, described the case as involving an organised international criminal gang specialising in ivory smuggling.
He added that since the beginning of 2019, Customs officers nationwide had filed 182 cases of endangered species smuggling, including 53 involving ivory. As a result, the activities of 27 criminal gangs had been disrupted, 171 suspects arrested and 500.5 tonnes of endangered animals and plants confiscated, including 8.48 tonnes of ivory.
Moreover, China Customs had cracked down on illegal online trade and smuggling of ivory and other endangered species products, successfully eradicating at least two ivory smuggling networks on social media.
TRAFFIC congratulates Customs on their successful enforcement actions, which send a firm signal that trafficking of endangered species will not be tolerated. TRAFFIC also encourages the authorities to ensure full and thorough investigations are carried out and offers its assistance in efforts to clampdown on the persistent trafficking of ivory and other endangered species, and in the longer-term goal of changing consumer behaviour and reducing the demand for illegal wildlife products.
---