Regional TWIX event: Strengthening co-operation between wildlife law enforcement agencies in Eastern Africa
Arusha, Tanzania, February 2020—More than 30 government enforcement officials from Kenya, Uganda, and Tanzania participated in a two-day awareness event convened by TRAFFIC last week in Arusha on Trade in Wildlife Information eXchange (TWIX) platforms. The TWIX platform comprises online tools developed to facilitate information exchange and international co-operation between law enforcement agencies between countries. 
---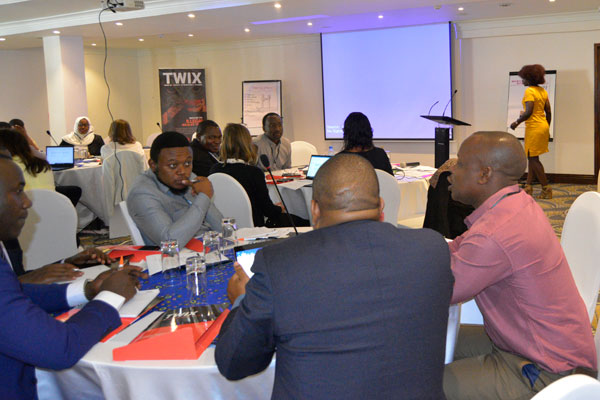 Officials attending represented government ministries covering wildlife and forestry, as well as the Police, Customs, the Judiciary and Public Prosecution, Financial Intelligence, and intergovernmental organisations including the United Nations Office on Drugs and Crime (UNODC) and INTERPOL. 
The meeting aimed to provide the law enforcement officials with an overview of the TWIX platform, TWIX implementation progress, and agreeing on the management and support required to implement a TWIX in Eastern Africa. 
Users of the currently operational TWIX platforms in Europe (EU-TWIX), Central Africa (AFRICA-TWIX), and the SADC region (SADC-TWIX) joined the event and shared their experiences with the participants.
Once operational, the TWIX in Eastern Africa will facilitate information exchange as well as strengthen inter-agency and cross-border co-operation amongst law enforcement agencies, in turn, enhancing the success of law enforcement efforts and also provide assistance with implementing trade regulation measures under the Convention on International Trade in Endangered Species of Wild Fauna and Flora (CITES). 
TRAFFIC thanks the agencies for their trust and their mandate to develop a TWIX system in Eastern Africa
Allan Mashalla, TRAFFIC's East Africa Regional TWIX Coordinator. Already 40 users have been nominated by agencies to join Eastern Africa-TWIX. 
"Facilitating regular communication between international enforcement agencies will help to disrupt transnational smuggling networks," said Mr. Theotimos Rwegasira, Project Coordinator, Combating Poaching and Illegal Wildlife Trade, Wildlife Division, Ministry of Natural Resources and Tourism, Tanzania.
Simon Kiarie, the Principal Tourism Officer of the Directorate of Productive Sectors, East African Community (EAC) told the participants that TWIX falls under EAC's Strategy to Combat Poaching, Illegal Trade of Wildlife and Wildlife Products, specifically, Strategic Objective 3.2.3 on "information sharing and co-operation between countries is critical in combating wildlife trafficking."
Joward Baluku, Wildlife Officer from Uganda's Ministry of Tourism, Wildlife and Antiquities said, "a good feature of TWIX is that it requires minimum resources to operate and only non-nominal information is shared on the platform."
The Honourable Catherine Mburu, Senior Resident Magistrate from Kenya urged for the platform to become operational as soon as possible. 
Brian Otiende, Project Management Specialist, Biodiversity and Water, who represented USAID/KEA, noted that USAID under the CONNECT (Conserving Natural Capital and Enhancing Collaborative Management of Transboundary Natural Resources in East Africa) project will continue to support TWIX implementation in the region.
The event was generously supported by funds from the USAID-funded Wildlife TRAPS project of TRAFFIC and IUCN.
---