Medicinal plant utilization underpins sustainable development in Zhejiang Province, China
Longquan city, Zhejiang, China, 28th July 2014—Long renowned for its sword, porcelain and mushroom-growing industries, Longquan city is today turning its attention to the sustainable production of herbal and medicinal plant products.
---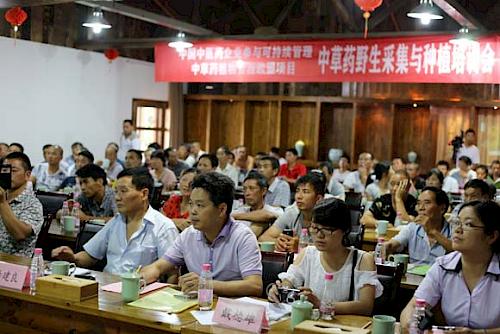 It is part of a wider initiative in Hunan and Zhejiang Provinces led by TRAFFIC in partnership with World Federation of Chinese Medicine Societies (WFCMS), WWF China and Wecome Pharmaceutical Ltd under an EU China Environmental Governance Programme (EGP) on "Engaging China's private sector in sustainable management of medicinal plants--the multiplier effect (EGP-MAPs)".
The latest development is aimed at protecting wild medicinal plant resources through encouraging manufacturers and traders of traditional Chinese medicines (TCM) to ensure their supplies are sustainably sourced as part of their corporate social responsibility (CSR).
Zhejiang-based Wecome Pharmaceutical Ltd has already optimized management of its supply-chain and is now aiming to adopt sustainability standards and certification for its raw materials. The company is also drawing up management plans based on the conservation status and risks to the plant resource of the species it uses. The company has mapped out its supply chain in Zhejiang province and provided training to various producers and suppliers as part of a long-term vision to establish fair and transparent relations with local harvesters.
Earlier this month, on 16th July, Wecome Pharmaceutical joined Lishui City Forestry Institute, Shangyang town local government and Longkang Agricultural Development Co., Ltd in signing a TCM Industry Development Alliance Agreement.
Under the Agreement, the parties will jointly promote sustainable wild plant harvesting, while Shangyang will set aside 33 hectares for standardized cultivation of medicinal plants as part of Wecome Pharmaceutical's pilot scheme for green supply chain management and to promote sustainable management of medicinal plants resources within the TCM industry.
Zhou Pinwang, the Party Secretary of Shangyang town government said: "The alliance with developments in the TCM industry is hugely significant to Shangyang town. First, introduction of medicinal plant cultivation into local agriculture could gradually replace the cultivation of mushrooms, which consumes many timber and forest resources. Second, it will improve the quality of life for local people as villagers will be able to make a living closer to home rather than moving further afield—which creates social problems through leaving their families behind."
Following the signing ceremony, TRAFFIC helped train more than 60 participants from the harvesting community about use of the Fairwild Standard, introducing the principles on sustainable wild collection; transportation, processing and storage plus social and business issues related to fair trade.
"Application of the FairWild Standard is gathering momentum, helping companies to achieve their corporate social responsibility ambitions and improving the sustainable sourcing of wild plant ingredients with obvious benefits for conservation and local livelihoods," said Chenyang Li, TRAFFIC's Medicinal Plant Project Manager in China. 
Mr Li Jianliang, a technical expert from Wecome Pharmaceutical spoke about the identification and wild collection of two herbs species: Water-pepper Polygonum hydropiper and Chinese Motherwort Lenurus japonicus, while experts from Lishui Agricultural Bureau and Lishui City Forestry Institute spoke about cultivation of Solomon's Seal  Polygonatum sibiricum and Tetrastigma hemsleyanum.
Xu Qing, the Vice-Secretary from Shangyang town government said: "Protection of medicinal plants has not been a priority among harvesters, so some perennial plants like Solomon's Seal are in serious decline. Local producers are also unaware of current markets and often sell their produce to intermediary traders for as low as 2–3 yuan per kg, some 1–2 yuan below market value. However, closer alliances are now being established between producers and companies which has cut out the middlemen, increased harvesters' profits and raised their awareness and desire to achieve sustainable collection of wild medicinal plants."

This communication has been produced with the financial assistance of the European Union. The contents of this communication are the sole responsibility of TRAFFIC and can under no circumstances be regarded as reflecting the position of the European Union.
---