Malaysia's Tigers get a boost from the National Football Association
Kuala Lumpur, Malaysia, 23rd April 2015—Malaysia's Tigers have a new champion in the Football Association of Malaysia (FAM) that is partnering conservation organisations in their fight to save wild tigers. The FAM has recognized the Malaysian Conservation Alliance for Tigers (MYCAT) as its social responsibility partner and will work with the group to raise awareness on the need to save Tigers and garner more support from Malaysians for Tiger conservation.
---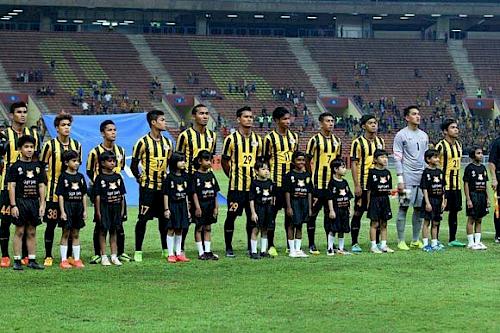 MYCAT, of which TRAFFIC is a founding member, brings together four conservation organisations—Malaysian Nature Society (MNS), TRAFFIC, Wildlife Conservation Society-Malaysia Programme and WWF-Malaysia—that work with the government on implementing the country's National Tiger Conservation Action Plan for Malaysia.
With numbers averaging 300 individuals, the Malayan Tiger qualifies as Critically Endangered under the IUCN Red List category.  MYCAT believes there is a need for an overhaul in the country's approach to tackling the Tiger's greatest threats – poaching and illegal trade. 
"Every Malaysian needs to know about what is happening to Malaysia's forests and many other endangered animals like Tigers – after all, these are national heritage to be passed on to many more generations to come," said Dr Kae Kawanishi, MYCAT General Manager.
Just last month, MYCAT released its 10-year anniversary report, profiling over a decade of challenges and achievements in Tiger conservation in Malaysia.  The report reflects on past trends, including the seizures of at least 100 Tigers over a decade with dire predictions for the Tiger's future unless urgent action is taken. It also makes a plea for the establishment of a National Tiger Task Force, led by the Prime Minister, which can mobilise resources to implement the national plan of action for tigers.
The new FAM partnership was announced at the Asian Football Confederation Under-23 Championship 2016 Group "i" Qualifiers which took place at the end of March and is an important show of support from one of the strongest segments of the Malaysian sporting community.  
The Football Association whose roots date back to the 1930s, is the custodian of the Malaysian National team which is commonly referred to by the public as Harimau Malaya, meaning Malayan Tigers. 
The FAM partnership with MYCAT will run until 2018. It is designed to reach out to a new audience, to instill in Malaysians the same pride and passion for wild Tigers as they have for the national football team specifically, and football in general.
"Tigers need that 'never-say-die' spirit football fans are famous for. Poaching and illegal trade is associated with so much negativity due to the severity of the issue, but this collaboration marks a path of hope – with FAM we hope to convince Malaysians to show that loyalty and support to the species; that the Malayan Tiger is their team in every sense of the word," said Kanitha Krishnasamy, Programme Manager, TRAFFIC in Southeast Asia.
---