Business community encouraged to protect wildlife by Viet Nam Chamber of Commerce and Industry and TRAFFIC
Hanoi, Viet Nam, 24th April 2015 – To empower the business community in Viet Nam to lead the fight against illegal wildlife trade and consumption, the Viet Nam Chamber of Commerce and Industry (VCCI), in collaboration with TRAFFIC, is equipping business leaders with the tools they need to become "champions" of wildlife protection through corporate social responsibility (CSR) training.
---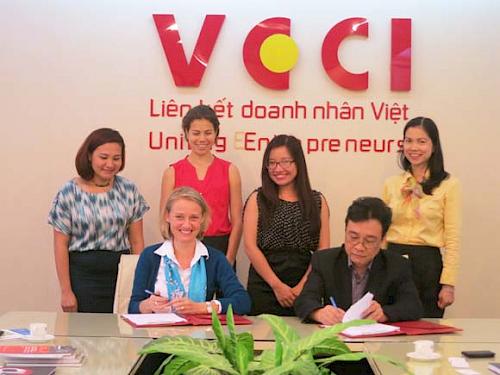 VCCI and TRAFFIC, the wildlife trade monitoring network, today signed a strategic Memorandum of Understanding (MoU) supporting the roll out of best practices in corporate ethics and consumer behaviour change, as well as a zero tolerance approach toward wildlife consumption, through CSR. Through enhancing capacity for Vietnamese businesses, this partnership contributes to global efforts to eradicate illegal wildlife trade and to ensure that the trade in wild plants and animals is not a threat to the conservation of nature.
"Business leaders in Viet Nam are role models for their peers, colleagues, friends and family, so we believe they have the power to help protect wildlife through reducing demand for endangered species," said Mrs Madelon Willemsen, Head of TRAFFIC's office in Viet Nam. "Along with raising awareness about wildlife protection, the partnership between VCCI and TRAFFIC will improve the governance, practice and social responsibility of enterprises in Viet Nam."
The two organizations will co-develop innovative social marketing messages to address illegal wildlife trade and consumption then implement joint communications activities to disseminate those messages. These activities will aim to enhance management capability, social responsibility, and business ethics with the goal of instilling social responsibility and reducing the consumption of endangered wildlife products, such as rhino horn. TRAFFIC will contribute to building capacity for VCCI's trainers and staff in social marketing and enhancing management capability for Vietnamese enterprises.
According to a 2014 Nielsen report, there has been a shift in consumer interests towards brands showing leadership in social and environmental responsibility, which includes a zero-tolerance to wildlife consumption. In Viet Nam in particular, the majority of consumers (73 percent), partners and investors are eager to support brands committed to acting ethically and legally, so VCCI members adopting wildlife CSR measures may see an increase in support.
Demand for rhino horn in some Asian countries, including Viet Nam, is one of the main drivers of the poaching crisis in Africa. TRAFFIC and VCCI are encouraging leaders in Vietnamese society, including influential business people, to address this crisis as part of TRAFFIC's "Strength of Will" campaign, which is based on the Vietnamese concept of "Chi," the power that lies within. The Chi campaign promotes the idea that success, masculinity and good luck flow from an individual's internal strength of character, not from a piece of horn.
---
About VCCI
The Vietnam Chamber of Commerce and Industry (VCCI) is an organization that represents and protects legitimate benefits of business communities. VCCI has a network of branches, representing offices and members nationwide.
About TRAFFIC

TRAFFIC is a leading non-governmental organisation working globally on trade in wild animals and plants in the context of both biodiversity conservation and sustainable development whose mission is to ensure that trade in wild plants and animals is not a threat to the conservation of nature. More information at www.traffic.org