Malaysia seizes half a tonne of ivory
Port Klang, Malaysia, 9th January 2012—Malaysian Customs Department in Port Klang has seized close to half a tonne of ivory exported from Cape Town, South Africa; the third ivory seizure at this port in just over six months.
---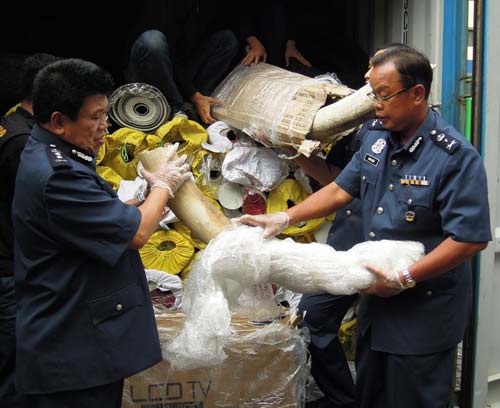 Malaysia was listed as the final destination, making this an unusual development, as in all previous large ivory seizures in Malaysian ports, Malaysia was simply a transshipment point for the smuggled ivory.
The 492 kg of tusks were individually bubble-wrapped and then packed in cardboard boxes. The boxes were hidden in a container filled with used tyres and flooring material. The shipment was falsely declared as polyester and nylon strand matting.
The shipping manifest listed a Malaysian company as importer and Port Klang as the final destination, Selangor State Customs Director Dato' Azis Yacub told reporters at a press conference today.
"Although this is a small seizure, many elephants were needlessly killed," Azis said.
"Our investigations will now focus on why Malaysia is being used as an end destination," he added.
There have been no arrests resulting from the seizure which took place on 6th January in West Port, a major container port in the Port Klang complex.
However, Azis said a shipping agent was being questioned in connection with the case. The seizure itself is being investigated under Malaysian Customs Act as a case of fraud.
Under the Customs Act 1967, those found guilty of using fraud to smuggle prohibited goods into the country are liable to a fine between 10 and 20 times the value of the smuggled goods or a maximum three years in jail, or both.
Malaysian Customs made four other sensational ivory seizures in 2011, collectively weighing a total of some six tonnes. These represent the largest haul of ivory ever recorded in Malaysia and served to confirm the country as a primary transit country for illegal trade on to end-use markets in China and Thailand.
In December, TRAFFIC called 2011 the worst year for ivory seizures as it saw a record number of large ivory seizures globally, weighing an estimated 23 tonnes and representing more than 2,500 elephants.  There has been a sharp rise in illegal ivory trade since 2007.
Although official confirmation of the volume of ivory involved in some cases has not yet been registered, what is clear is the dramatic increase in the number of large-scale seizures, over 800 kg in weight, that took place in 2011—at least 13 of them.
A conservative estimate of the weight of those seizures in 2011 puts the figure at more than 23 tonnes, a figure that probably represents some 2,500 elephants, possibly more. 
This compares to six large-scale seizures globally in 2010, whose total weight was just under 10 tonnes. 
"Malaysia has ramped-up its efforts to stem ivory smuggling through the country and that's great news, now thorough diligent investigations both in Malaysia and South Africa, arrests and prosecutions must follow," said TRAFFIC Southeast Asia Senior Programme Officer Kanitha Krishnasamy.
"Other countries in the region should also be on alert because as enforcement increases in Malaysia, smugglers will adapt and seek other transshipping routes within the region," she added.
---